Marching their way to success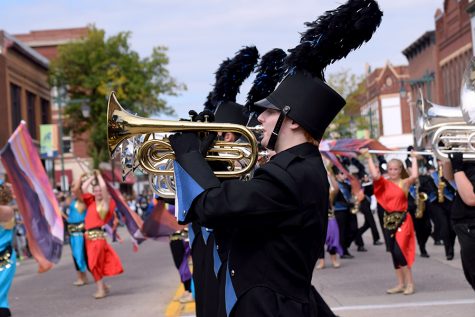 Clashing cymbals, strong brass instruments and the students giving their all in their performance are just a few things one can find while watching and listening to OHS Marching Band. Director Peter Guenther says, "The future's pretty bright, there's a lot of interest. The band is traveling to California this year, July 1-7." The band choosing to go down to California, they are participating in the Pacific Palisades Parades and the Huntington Beach 4th of July Parade. They also are going for the fun activities such as Universal Studios, Disneyland, Six Flags Magic Mountain and Catalina Island. As for their season this year, all fans of fantastic music should check out their hard work put into action.
The OHS Marching band will start their season with the Memorial Day parade in downtown Owatonna, MN, and have yet another set at the Harry Wegner band festival on June 17 at 11 a.m. The route goes from Trinity Lutheran Church to Central Park in Downtown Owatonna. The theme of their music Star Trek Beyond, Mary Poppins, Shrek and 2001: A Space Odyssey.
OHS Marching Band impacts the students in many ways. It helps the lower classmen become friends with the upperclassmen by giving them something to bond over, It gives students from diverse backgrounds an opportunity to show their talents and the passion they have for the music. Junior Bryce Knutson said, "It teaches discipline, and really enforces that everybody is a part of the team and you have to pull your own weight, and really be accountable for yourself, and in turn that will reflect well in the entire group." Marching band is no doubt an activity that sculpts well rounded students who excel in all areas. They will be debuting their street routine at the Memorial Day parade May 29 at 10 a.m. in Owatonna
About the Photographer
Richard Ong, Photo Staff and Web Designer
Returning for the third year is myself, Richard. I have finally reached second to last form of a Highschooler, a senior. I earned many roles in Magnet...