Huskies take care of business early in the season
The Owatonna Huskies Football team has had a hot start to the 2017 season. The Huskies have shown hope for an impressive fall season with a respectable 3-0 start. Looking to have another successful season, the team is dialed in. Head Coach Jeff Williams said, "The post season is a long way off, we are more of a day by day operation, we always have our low beams on." Although they are off to a great start they are only four weeks into the season and have a long time before the season is over.
The Huskies demonstrated this focus and started out the year with an impressive victory over the Faribault Falcons 61-0 at home. They had a quick start with four touchdowns in under 15 minutes. The OHS offense looked especially strong in both the passing and rushing game. On the other side of the ball, the Huskies defense was also especially strong. The defense allowed only 91 yards for the whole game.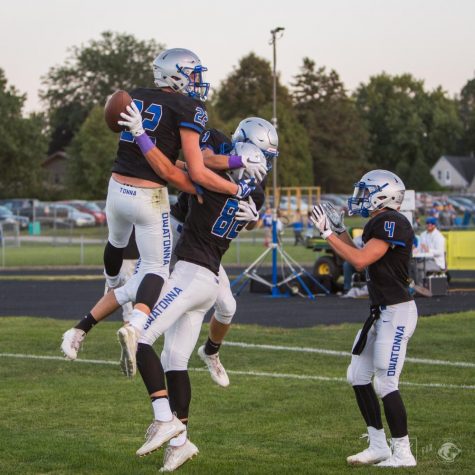 They followed up with another impressive win in their next game against Rochester Mayo. The Huskies defeated the Spartans 46-7 at home. The team's rally started with senior Mitch Wiese intercepting a tipped pass from the fingers of senior Kade Serbus and returning it for a touchdown. The Huskies rolled on from there offensively, while holding Mayo to only seven points. Coach Williams has been especially impressed with the senior class this year. Williams said, "We talk about how tradition never graduates in our program, our captains, and our senior class in particular have done a good job setting the tone for our younger kids."
The Huskies kept on pace with a big win on the road against Austin 70-36. The game wasn't as clean as the past two had been- with both teams combining for 14 penalties- but regardless of how many flags were thrown, the Huskies still came away with the win. Senior captain Abe Havelka said this on the team's success, "The team is meshing together very well after the first couple of weeks, the o-line is coming together and our skill position guys are some of the best around." Havelka also said, "We need to focus on working hard and taking it one day at a time to get to the places we want to get to and accomplish what we set out to do". The Huskies have a difficult schedule coming up, but they are ready for the challenge. You can watch their next game on Friday, Sept. 30 at 7:00 p.m.