Unfinished buisness
November 26, 2017
After suffering a crushing defeat from the Elks in the 2016 semifinals with a score of 19-7, the Huskies were thirsty for revenge. With 13 starters from the 2016 team returning, this meant more to them than any game they had played all season. This game was not necessarily a championship game to them, but one they had been waiting to play all season. Wiese said, "It's great because last year when we lost it left a bad taste in our mouths, and we thought we came up short." The Huskies were not going to fall short again. Havelka said, "Throughout the year we needed to take it game by game, but in the back of our minds, we thought we would see them again, and when we got the chance, we executed."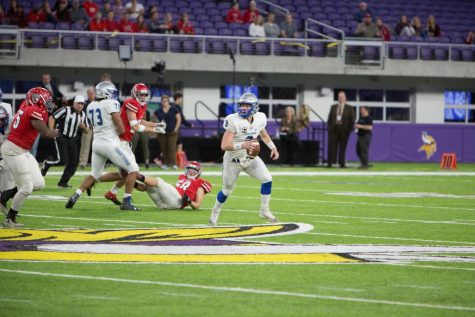 The Huskies did exactly that. They executed. The team knew that Elk River's complex offense was going to be hard to stop, but that did not discourage the team at all. The Huskies never relented. Whether it was a 29 yard fumble recovery by Tucker Alstead for a touchdown, or a 67 yard kick return by Jason Williamson earning six points, the Huskies never stopped. To top it all off senior Josh Nelson was successful on all point after attempts, which made the blue machine even harder to stop. The Huskies demoralized the Elks play after play, and when they thought they could get back into the game, the defense shut the door and the offense marched down the field. Head coach Jeff Williams understated how the team played by saying, "The boys played good." Well, the boys played great.
The defense held the Elks to a season low of season low of 406 yards total – 333 were rushing yards. Senior Cole Rocha led the defense with a total of 15 tackles. When the defense was not stopping the run, the Offense was averaging 9.5 yards per rush, and 12.5 yards per passing attempt. The Elk River defense had a hard time stopping everything, and that is how the Huskies were able to trample them to victory. Williams said, "Beating the team that ended our season a year ago was nice, but I am just happy that we were able to help our kids achieve their dream."
With this victory, the Huskies for the second time in four years have brought back the championship trophy. Havelka said, regarding what made this team special, "Our dedication and faith in each other to push each other everyday." With a great group of captains and team leaders, the team was able to achieve unparalleled success. Wiese added to that by saying, "It was the bond we had with one another." The team was able to push each other to be the best they could be, and the Huskies broke many of their own records throughout season.