The Watch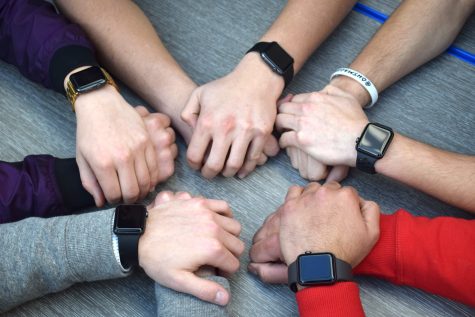 New technologies are brought to life every year, most have been used to enhance everyday life. One company that invented many new technologies is Apple Inc. Throughout the decades Apple has created many useful technologies like the Macintosh, Ipad, Iphone, AirPods and the infamous Apple Watch. The first Apple Watch was introduced April 24, 2015. Since then, Apple has created two more watches. Series 3 is the latest. The Series 3 offers a new array of features.
According to Apple Inc, the new Apple Watch Series 3 has a new custom-designed wireless chip that Apple calls the W2. The new chip combines both Wifi and Bluetooth radios. With this new technology the Apple Watch is 85 percent faster than the previous generation in regards of Wifi performance. Not to mention that the use of the Bluetooth makes the watch 50 percent more power efficient.
The watch is also water resistant for up to 50 meters. When a swimming workout is started, the Apple Watch automatically locks the screen with water lock to avoid accidental taps. It also has fitness tracker which tracks calories burnt, steps taken, monitors heart rate and overall wellness. There are also a variety of third party apps that are compatible including: Yelp, ESPN: scores, news app, and a variety of games to play through the watch. The Apple watch simply serves the purpose for those who want an easier way to view the upcoming weather, get directions and send a text. Senior Arianna Volkmann, who owns an Apple Watch, said,"I like being able to receive and send messages and being able to track my steps at dance."
Along with its good features and improvements the watch comes at a whopping $329. When asked if she would recommend the watch, Volkmann said, "Yes, if a person is interested in spending the money." The Apple Watch is also only compatible with Apple products. There were also many problems with the LTE connectivity of the watch- when connected to some mobile carriers the watch experienced several 'drops'. Although the Apple Watch is not meant to replace a cell phone, it is a way to access apps and personal media easier. The Apple Watch is a smartwatch worth buying even at the high cost, whether that be for yourself or as a gift.