Flipping Seasons
As fall sports come to an end, the winter season approaches quickly. Many athletes play multiple sports, and those who play in both fall and winter seasons have little to no time to transition from one to the next. MSHSL rules state that athletes can participate in one sport at a time.
 Participating in multiple sports builds different muscles, and in turn builds the all-around athlete. Those who compete in more than one sport also have better time management skills and tend to do better in school. Dalton Kubista said, " I enjoy being an all-around athlete. It keeps me busy, in shape, and I get to meet new people. I have also learned how to manage my time better and keep my grades up in school."
Senior Alex Raichle has unfortunately been battling an ankle injury for most of the football season. Now that he is off the field, one of his concerns is focused on staying healthy for basketball. Raichle said, "I am going to be taking some time off after football ends and just rest my body to try to get back to full health before the basketball season starts." The girls basketball team had their first official practice on Monday, Nov. 13. Senior Bria Wachowiak said, "With the girls soccer, volleyball and cross country finishing early this year, the team has had a lot of time to prepare for the season. We are all very excited and hope to do very well."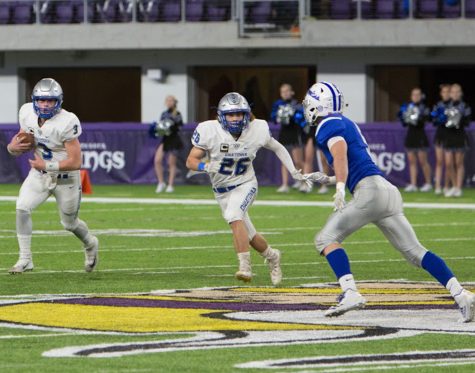 On another note, the temperature is dropping, and ice will begin to form outside, but the Four Seasons has plenty of ice. The hockey teams have already been preparing for their first games of the season.
In less than one week hockey players went from the U.S. Bank to the ice rink.  Captain Mitchell Wiese said, "With football still going I am not focused on hockey. Now that  football has ended, I will be preparing myself for the winter season, and the team is looking forward to it and hopes to have a good season." The girls hockey team is also looking forward to a good year. Girls Captain Margo Achterkirch said, "The team is very excited for the season. We've all been working extremely hard and want to make a run this year."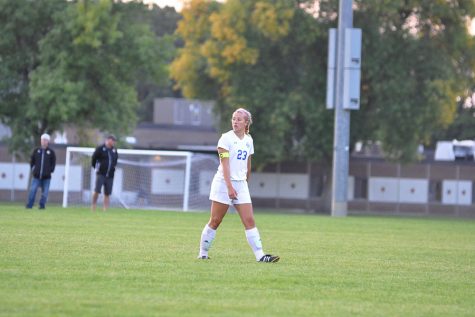 Another caught in the transition is junior Allison An. She went to the state tournament for diving to a state contending gymnastics team. An is also on the gymnastics team and can't wait to start doing flips on dry land. An said, "Now that the swimming season is over I can focus on Gymnastics and start practicing with the team." The gymnastics team finished third at state last year and is hoping to return again this year.
Off seasons are critical for student athletes, as they have more time to complete homework after school and to allow their bodies to rest.The preparation for upcoming sports also has a large impact on the winter season. In the off season, athletes are able to rest and get healthy while getting back into the groove of the dynamics of the seemingly foreign sport. With snow on the ground many people are eager to watch all the huskies winter sports.