Putting the "Lead" in Leadership
DECA is the Distributive Education Clubs of America and they prepare emerging leaders and entrepreneurs to be college and career ready.  DECA is an international association of high school and college students and teachers of marketing,management and entrepreneurship. Focusing on business, finance, hospitality, marketing sales and services. Minnesota DECA is made up of six districts. Each of these districts holds their own conferences to qualify for the State competition. District one will take place at Christian Family Church in Owatonna on Jan. 12, 2018 .
Students prepare for this by taking marketing classes to solve problems given to them and run through different scenarios with other members to be ready for anything the judges may ask. DECA members have a twitter account and a Remind 101 so people know when meetings are, when things are due and when they can come practice. Meetings usually happen in the small group forum before school at 7:40 a.m. The joining process is easy. In the beginning of the school year, there are tables in the commons with all the different clubs where kids can sign up. Throughout the year, members can recruit anyone to participate.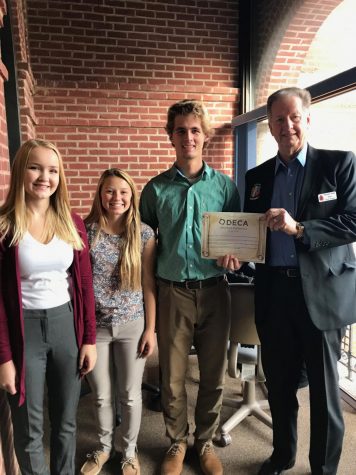 DECA is an important program during high school. Members get the opportunity to volunteer their time in the community. This fall they raked leaves and are planning on doing many more projects. DECA also allows students the opportunities to find out if they are interested in the business field. Leaders in DECA are picked throughout the meetings for specific roles. Senior Kenna West, vice- president of marketing, said, "DECA is not only super fun, but it is the perfect way to make friends who are in the same position and Mr. Pierce makes it ten times better." Mr. Pierce has been the adviser for DECA since the beginning, going into his fourteenth year. The thing he loves most about it is providing real life application experiences to kids in the business world. Pierce said, "We have an excellent group of student officers for DECA this year and we are all focusing on preparing for the district conference in January."
It is never too late to jump right into DECA. If you are interested in becoming a part of business or learning more, ask Mr. Pierce about DECA today.