Fulfilling others basic needs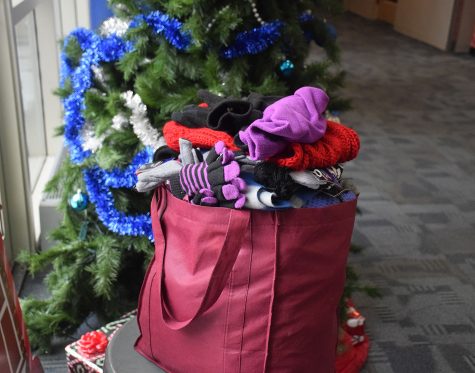 The Owatonna High School food and Clothing drive, organized by Mrs. Nancy Williams, the school counselors and the student council this year, raised over $2000 and plenty of goods. Mrs.Nancy Williams has had items coming in and out of her office all of last week and this week, as she has been assisting the families who qualify for those qualified as homeless. As Mrs. Williams is in charge of making sure that donations go to the families that need it the most, she spoke about how important it is to donate to the families that you know you can make a difference in their lives by doing so. Mrs. Williams said, "When you have that many [people] contributing, the numbers can go up so high. All of the sudden you got $2,000 just like that, and it's so amazing to watch."
People were generous when it came to donating outerwear, food and cash. The donations did not end there. People thought of the box when it came to donating other items including: towels, washcloths, pillows, blankets, socks and hygiene products. The kitchen staff came together to donate hair dryers and curling irons. Many looked into donations that would go beyond basic needs. Donations came from inside and outside of the OHS community. A local daycare got the "little kids" to come together and help the "big kids" by donating to the drive. Bags of hygiene products came from a family whose daughter graduated last year, but they still wanted to contribute to the cause. A St. Mary's family wanted to write a check even though they have their own school that they could donate to.
Now, process for distribution involves sorting items and giving what is most beneficial to each family. Almost every family in need will get a gift cards for food or groceries at Hy-Vee, Fairway or Cash Wise. Depending on the circumstance, Mrs.Williams will speak with student about some other needs at home, such as a pillow or a new toothbrush. Mrs. Williams expresses appreciation towards the students as they uphold the utmost respect when it comes to picking items socks or a curling iron for use at home, and they are especially respectful of not sharing the things they received with others. The students are also super appreciative that people want to help fulfill their needs.
Mrs. Williams is usually in charge of the collection and the counselors usually aid her where it is needed. With this year's drive, the Student Council aided Mrs. Williams and the counselors by helping spread the word about the event. Mrs. Williams believes that partnering with the council made a big impact on the drive because awareness about the drive has increased dramatically since last year. Last year, the drive collected $1500, and hats, mittens, toothbrushes or socks were not promoted as items that would be collected. This year's drive has ended a success.