Skating their way to success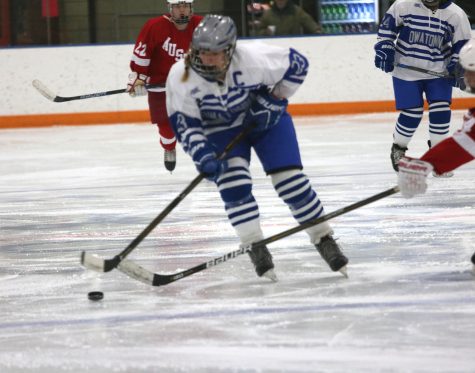 OHS Girls Hockey is the first winter sport here at OHS to go into sections this year. The team has had a great season with a record of 14-6. Senior captains Rilee Schmidt, Margo Archterkich and Jamie Davison provided a fun and enjoyable environment this season for the underclassmen.
Head coach Dan Paur and assistant coach Joel Tornell also add that the captains have done a great job. Coach Tornell said, "I am proud of the leadership skills I see from the seniors towards the rest of the team and the contributions from the underclassmen. I am also very happy with how solid our goal tending has been". Girls hockey started off a little shaky, but eventually hit smooth ice. A couple of defeats in the season did not stop the girls from pushing forward and working harder. The girls have improved on better communication, which has brought them a long way. They prepare for sections by working extra hard in practices, lifting weights and working as a team.  The solid goaltender this season is senior Laura Ebeling. Ebeling said, "I love being a goalie, it's a lot of pressure but in the end it's all worth it".
Sections might be a challenge for the girls but they look forward to coming out strong and having fun playing with each other. They still have their last home game this Thursday, Feb.1 at 7p.m. against Rochester John Marshall. Last game against John Marshall, Owatonna won 5-1.