OHS prepares for protests
A ripple has been sent throughout the Owatonna Senior High School. A large group of  well-known protesters announced via press release that they will show up on OHS's doorstep on Monday, Feb 5. Because of the notoriety associated with this group, there has been opposition from various graduates and larger groups who would like to form a counter-protest against this group.  Thus, preparing the students of OHS for an unusual start to the week.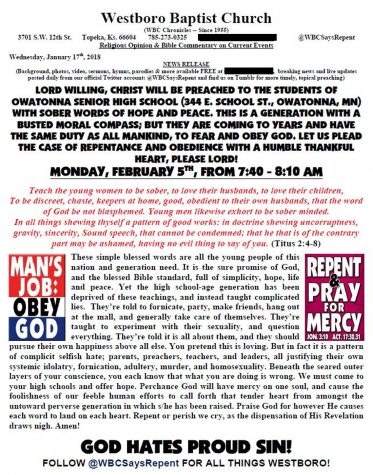 The press release on Jan. 17 posted on twitter left many OHS students confused as to what was happening. Leading up to an email sent to parents, many students have been confused on how exactly the school was going to help and on exactly what was going on. When asked why the school waited so long to communicate, District Superintendent Mr. Jeff Elstad said, "There is a danger in communicating too soon before the event. What we have been waiting for are their changes or things we have been made aware of. The reason we waited to stage the communication until yesterday (Jan. 31) was because we have the right information to give out to parents." Besides waiting to give the information to parents, the School District plans on having all teachers read a statement to their classes during second hour along with a discussion on Feb. 2.
OHS Administration along with the School District administrative team has begun to work with the Owatonna Police Department. The Owatonna Public School District's Superintendent Mr. Elstad sent an email to parents district wide on Feb. 1 regarding the alleged protest. The Owatonna Public Schools Newsletter stated, "While we cannot control what happens outside of school grounds, we can control what happens within our schools. Our focus that day, as on all days, will be to provide a safe and welcoming learning environment for all Owatonna public school students. Our OHS counseling staff are available to speak with any students who have concerns about coming to school that morning." The newsletter communicated also how strong our community is and encouraged parents to be more involved in their students education.
As the date for the alleged protest approaches, many students have become anxious. When asked how the school was going to keep students safe, Mr. Elstad said, "Bringing normallcy around our day will provide some safety. We also intend to have a few extra staff members on hand because we do take the safety of our students very seriously and also an added law enforcement presence." The school has numerous times ensured that students will be safe throughout the school day. When asked about having protesters come to the school, sophomore Noah Wagner said, "It makes me fearful as a student that they are coming to my school and protesting, but it inspires me to use my voice and not stand for hate." Many students have made comments similar to Wagner's and are uncertain why the protest would be here at OHS and how they should react to the messages on both sides.
When asked if he believed if there would be a disruption to the school day, Principal Mr. Mark Randall said, "All of the information we have received so far would indicate that this really should not be a disruption to the school day. We have worked with the local police department and they have informed us of more details, and we truly believe that this will be a situation where you can really sit into your classrooms and focus on your schoolwork."
---
The Right to Protest
As part of the First Amendment, protesting is allowed as freedom of speech. However, there are rules that the protesters must abide by. Protests are not allowed on school property.  They cannot impede daily operations of the school. The American Civil Liberties Union (ACLU) lays out one's rights while protesting as, 'Picketing must be done in an orderly, non-disruptive fashion so that pedestrians can pass by and entrances to buildings are not blocked."  This means the protest cannot affect the arrival of students for school.  Regarding counter-protests,  the ACLU says, "Although counter-demonstrators should not be allowed to physically disrupt the event they are protesting, they do have the right to be present and to voice their displeasure. Police are permitted to keep two antagonistic groups separated but should allow them to be within the general vicinity of one another."
The protesters have also filed a right for protection to peacefully protest for the local Police Department. When asked how they could do this, Police Liaison Officer Brady Vaith said, "Everyone has a right to their opinion and to protest, and they are just requesting that we keep them safe as long as everyone else." The school along with the local Police Department have been in constant contact and have had multiple meetings regarding how they can keep the school both safe and how they can reduce the distractions to students.
"
Stay in school, don't go outside. Just stay out of it, and don't give anyone attention. Both sides are looking for attention, and if you are not out there watching or participating there won't be much going on.
— Liaison Officer Brady Vaith
When asked on some advice for students to remain safe during these protests, Officer Vaith said, "Stay in school, don't go outside. Just stay out of it,and don't give anyone attention. Both sides are looking for attention, and if you are not out there watching or participating there won't be much going on."
Students of OHS are reminded if they decide to protest or counter-protest the school has begun to put some rules in place. During this time normal school rules will apply, this means that a student who is skipping class will receive such consequences. They will receive a truant from their teacher and will  face further consequences such as ISS (In School Suspension). There could also be consequences for students who decide to call themselves into school and decide to go protest as well. When asked about this, Mr. Elstad said, "We will have presence outside and if a parent calls a student in ill and they are participating in a protest we have a right as a school district to deny the request of illness because we can still mark it as unexcused. We are not trying to take away anyone's first amendment rights, we do have a school day to operate and it is important for students to be here for school because by law they have to be." The law that Mr. Elstad referred to is the  Elementary Education Act. This means that even though students are being called in the school by law the school has a right to make sure that these students are in class and not protesting.
Besides protesting at OHS the protesters will be protesting at local churches all around the town of Owatonna on Sunday, Feb. 4. This is creating a stir not only for students at the high school, but also various other groups around the city and also in larger cities around the state. Since first communication, many have taken to social media to express outrage of this group and choosing Owatonna. According to a Facebook event over 100 counter-protesters plan on attending with 300 more people interested in the event.*
On Feb. 5 OHS will continue to conduct school.  Classes will take place as they do normally. Administration and teachers will continue to carry out safety protocols and make students safety the number one priority with learning a close second. OPS will continue to communicate with families on this topic.
*Editor's Note: After publication the Facebook group has cancelled their organized counter-protest.
About the Contributor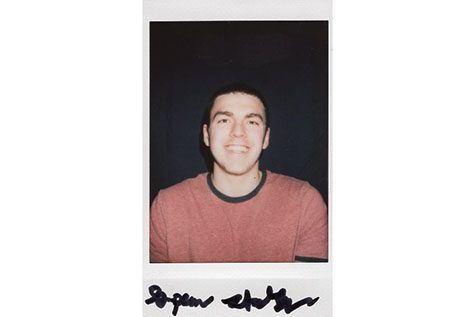 Spencer Steckelberg, Editor-in-Chief
Spencer is a senior at Owatonna High School. This is his second year in the OHS Magnet family, and he has became the fearless leader of the team. Spencer...