Above all a team
Walking in to the gymnastics state finals meet, one could feel the excitement, the suspense and a little bit of nerves for the gymnasts. However, since this was not Owatonna's first state appearance, they knew what to expect. Senior Becca Olson said, "Since we've been here a lot of times, it was a lot less stressful." The experience at this meet is helpful, and Coach Tom Smith puts an emphasis on the importance of keeping the team calm and collected. In the end, the team found itself in a familiar place – on the podium with bronze medals around their necks.
The atmosphere for competition was intense. Since all events are ran at the same time, there were plenty of roars from all fan sections of the crowd throughout the Pavilion. Owatonna started out the meet with a wonderful performance on bars. Following bars, they competed on beam, and Coach Smith said, "When we went to bars it was awesome. Then, on beam we stumbled a bit." Still, the performance on beams was great to see. On the floor, the girls bounced back beautifully. The Huskies made a lineup change allowing their alternate, senior Grace Pick, to take the floor. Pick said, "Not expecting to compete made it better. It was a ton of fun, and it was awesome to compete one last time." Finishing with vault, the girls looked like their focus was to go out and just have fun, and they scored well. Smith said, "I always think about it like each event is one of four quarters. We can take a blow, and come back. Any high school would be happy to come back like we did." The team came back to place third in the team competition.
Above all, they had fun and stayed strong as a team. Everyone had positive attitudes, and junior Sydney Kretlow said, "It's our goal throughout the whole year to just make it to state, and we made it." It is still an impressive feat to make it as far as they did. Now the team prepares for individual competition, which takes place today at the Maturi Pavilion at 6:00 p.m. Junior Ali An will compete bars and floor, freshman Lindsay Bangs competes all around, senior Becca Olson competes bars, beam and vault, and junior Sydney Kretlow competes vault. Good luck to these individuals, and Magnet is proud of the gymnastics team for how they ended their season.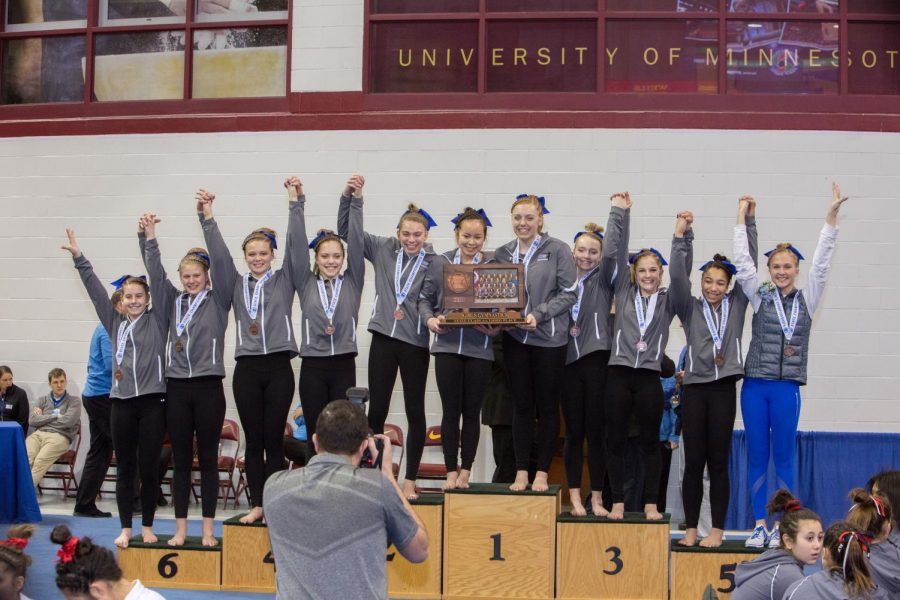 Harrison Kuhn
OHS Gymnastics team on the podium after receiving medals and the trophy
---
Individual Results: Lindsay Bangs placed fifth in the All- Around portion of the tournament.
About the Contributors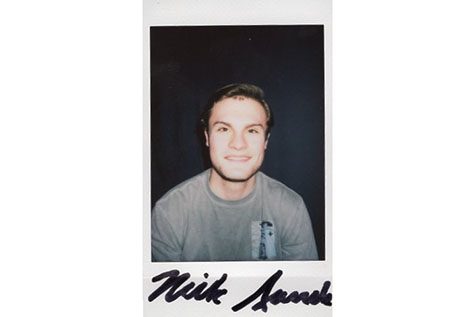 Nick Sande, Editor-in-chief
This site, Magnet, is where all seniors want to spend their senior year. So, here he is. In addition to being a part of the Magnet family Nick is involved...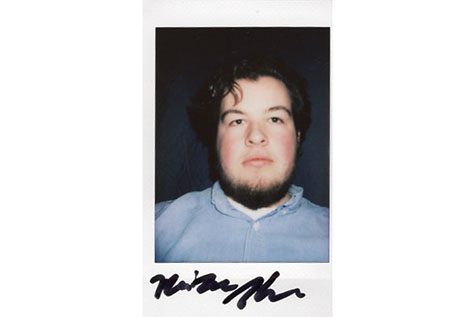 Harrison Kuhn, Photographer
Hi there! I'm Harrison Kuhn, currently a senior at OHS and I photograph for the Magnet. I've been on staff for the better part of two years, and have...