Uffda flannels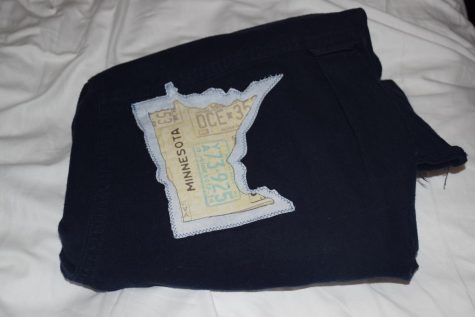 Minnesotans have unique pride in their state. Even with the love-hate relationship of frigid winters and humid summers, no one's love of their state compares to those who live in Minnesota.
OHS junior Molly Hawkins and sophomore Josie Sullivan saw an opportunity for something new. They took "Uffda", one of the many known Minnesotan catchphrases, and used it to name their company Uffda Gear. Uffda Gear started with flannels, and they are now expanding to other items such as socks, leather journals and hats. Hawkins said, "Uffda Gear is a company that sells trendy, upcycled flannels with some Northern TLC. We hand make patches of many varieties that are outlined in the shape of different states, our primary being Minnesota. We offer several different sizing, placement, and fabric options.The combination of the shirt and patch help make each and every Uffda product unique." Ages 15-25 are the primary target market. With flannels, they are a common item found in this age groups. Young adults in cold weather states love to wear flannel shirts because they are comfortable, warm and stylish. Their secondary target market consists of middle aged women who are looking for gift ideas for themselves or others. Hopefully, they reach this market by selling at farmers markets and having their products available in several retail stores in downtown Owatonna such as Kriti's and The Hat Chic.
Starting the business was not easy. Hawkins said, "Start-up cost $1,000 for the purchase of initial supply of flannels & materials together with marketing, advertising and promotions.  Total annual first year expenses are estimated at $1,700 Further flannel and material inventory was purchased with proceeds from initial sales and will not require further investment on behalf of partners or outside investors."  Starting in May 2017, these two have expanded the business greatly since then. They now took this idea to the DECA competition, and Sullivan and Hawkins have found themselves making it to the state competition.
"
Uffda Gear is a company that sells trendy, upcycled flannels with some Northern TLC."
— Molly Hawkins
Recycled fashion has become a popular trend. Customers are eager to second-hand items and appreciate their unique value. By taking flannels from discount stores such as Goodwill or Savers, it makes each purchase different from the last. With Uffda, there is the option of providing a flannel or buying one from them. Then the flannel is embroidered with a patch of Minnesota. The price of flannels is $10 if one is provided or $25 if purchasing one. With warm, fashionable clothes like flannels being a staple in a Minnesotan closet, the business that Hawkins and Sullivan created is a way to show Minnesotan pride. Sullivan said, "With our homegrown roots and our appeal for environmental consciousness, Uffda Gear is a unique alternative to the over-priced clothing available." To find Uffda Flannels and other personalized items, direct message them on instagram @uffdagear.