Wheelin' around
In 1921 Babe Ruth broke his home run record, Albert Einstein received the Nobel Prize in Physics and the Owatonna High school was built. Throughout the decades, the OHS has made various renovations and additions to the building. The renovations in the B Plaza and Options work area are the most recent, and they are bringing a newer look to the OHS environment.
With the expansions OHS has become a sprawling building. The seven-minute passing time is barely enough if students hurry and are able to walk quickly. However, there are a handful of students who do not have the ability to walk through the halls.  
With all of the work being done around the building, there are challenges regarding students accessibility in the OHS. This is especially evident for those who are in a wheelchair or on crutches. Navigating through the halls with a wheelchair is difficult enough, but there is also is an issue regarding the lack of elevators located inside the OHS to truly understand.
Sammy Davidson is a junior who was injured in a work related accident. He was in a wheelchair for two weeks before working his way to crutches. Davidson said, "It has its ups and downs. It is easier than trying to get around on crutches, but there are only three elevators in the school, and they are all on one side of the school which makes it difficult to get to the classroom on time. Also, the ramps in the school are difficult to get up in a wheelchair."
The pressure that comes with the amount of passing time allotted, can make getting to class on time a rather difficult task. Davidson said, "I usually went kind of fast, so I could make it to class on time. For someone who is going regular speed or just getting use to a wheelchair it could take longer, especially if they have to use the elevator."
Davidson has only been temporarily implanted in his wheelchair, but for some students they will always be in a wheelchair. This struggle is one that they will have to deal with for now because of the accessibility struggles in the OHS.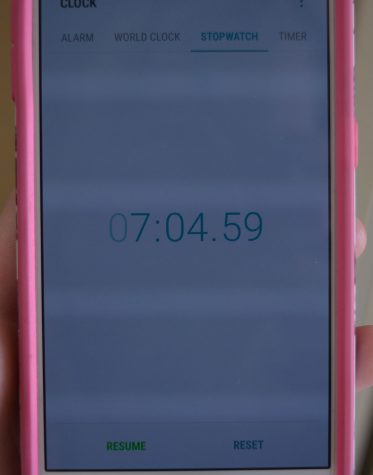 Isaiah Hendricks, a sophomore who uses an electric wheelchair at school because he has cerebral palsy said, "It is difficult at times to get around the school, especially when the hallways are crowded, but teachers allow me leeway with tardies and absences. It often takes me more time to pack up my things because of my limited hand movement, especially in my right hand, so I am allowed to pack up early and sometimes leave early." There are also other students who have even more limited ability. Hendricks also said, "I would like to say that I know there are people who struggle more than me, and have more to deal with." This opens up another view point for those who do not have the chance to move on from their inaccessibility and have to deal with this issue on a daily basis.
For students who are getting used to navigating a wheelchair in the hallways, it can make things very difficult. Hendricks said during freshman year he was in a push wheelchair. When asked how this was different than his electric chair Hendricks said, "It was much slower, and I was often coming in later to class than I am now."
When asked how many students used crutches and wheelchairs every day at OHS, School Nurse Mrs. Amy Jo Havelka said, "There are 18 students who use crutches and wheelchairs to get around the school, but this changes every day."
Having an old building does not help any of students get places efficiently, but overall the real limiting factor is the students with a disability. There are few improvements that can be made, but because of the age of the OHS, it becomes more difficult for students to get to class in a timely manner.