2017-18 was a year to remember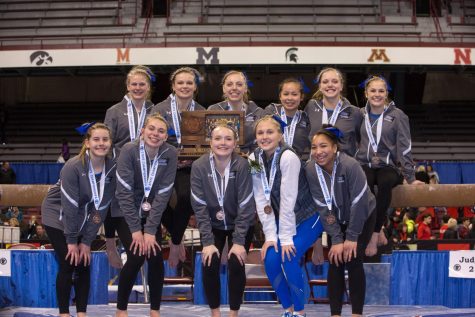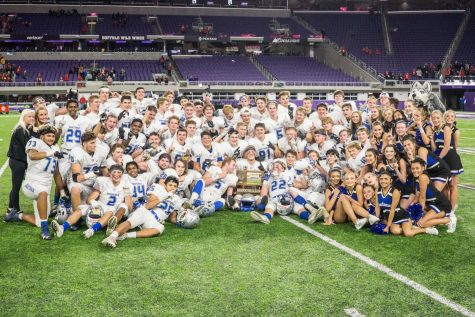 Over the 2017-2018 school year, there have been many great accomplishments within Owatonna High School sports. Fall sports such as boys and girls cross country, girls tennis, volleyball all had strong seasons. The boys soccer team made it to the section finals with a 8-7-2 overall record. For the soccer team, it has been the second year in a row they have reached that point they have extended into the postseason.  The  OHS Girls Swim and Dive Team sent one diver, Allison An, to state where she placed tenth. The varsity football team became the Class 5A State Champions with a 12-1 overall record. This is the second championship the team has won in the last four years. Athletic Director Ryan Swanson said, "We have had a lot of teams go to state, but to have a team win it all, that's just another level."
---
Over the winter records were broken on the basketball court. Senior Sydney Schultz set the record as the OHS lead scorer in girls basketball. Schultz said, "It is an awesome accomplishment to be able to have this amazing achievement but could not have done it without my amazing teammates and supporting coaches and family." She hit this mark in February and helped push the team to the section semifinals with a final record of 20-7. Senior Dalton Kubista broke the boys basketball team's scoring record and surpassed 1000 points in his varsity career. Dalton Kubista said, "I could not have done it without all of my brothers supporting me and giving me great opportunities, but it was one of my goals as a kid and I am glad I accomplished it." Kubista along with a powerful group of players pushed all the way to the sections finals ending with a 20-7 record.
The wrestling team and gymnastic teams had success.. The wrestling  team sent six individuals to state. The team ended in second in the section, and two individual state champs, Peyton Robb and Cade King who went undefeated this season. Senior Peyton Robb said, "It felt good to verify my decision to transfer to Owatonna and was able to train better at Owatonna. The  OHS Gymnastics team had a great regular season setting new school records. They ended up going to state as a team and placing third in Class 2A. Senior Grace Pick said, "Being at state with a great team is an amazing experience and all the girls worked so hard it is a great way to end the season. To be a part of Owatonna sports is a special thing. "
---
The weather has been hard on the spring sports. Most events were either cancelled or postponed early in the season. Teams had been practicing indoors for at least a month until getting outside and practicing for the first time in late April. For the boys track team it has been a good season, they have won multiple meets and are looking very good as progressing into the post -season. The OHS Boys Baseball team has also had a great start to the season, so far they are undefeated in the Big 9. The Boys Lacrosse team is undefeated to in the Big 9. Girls Lacrosse team is on a roll in the Big 9 and are tied for first in the section.
The teams are coming to the end of the season most of the teams are approaching playoffs and are looking to make a deep run. As the year wraps up Swanson said, "Good leaders know that they're the things that hold stuff together, but the reason our year has been so successful is because of the great coaches, volunteer coaches and parents in the program."
The class of 2018 has had a number of great athletes that are taking their talents to the next level as commits: Sydney Schultz, Abe Havelka, Zach Mensink, Terrell Conner, Tucker Alstead, Margo Achterkirch, Jenna Zeman, Sarah Spears, Kenna West, Sophie Amundson, Peyton Robb, Jacob Dub, Braeden Meier, Ben Stelter, Jamie Davidson, Andrew Jackson, Dalton Kubista, Brady Schuster and Nolan Malo. On May 23 Peyton Robb and Margo Achterkirch were honored as senior athletes of the year.
About the Contributors
Terrell Conner, Staff
I am a Senior at the OHS this year. I am invovled in Football, Basketball, Deca, Young Life, and of course Magnet. I love taking pictures and writing...
Harrison Kuhn, Photographer
Hi there! I'm Harrison Kuhn, currently a senior at OHS and I photograph for the Magnet. I've been on staff for the better part of two years, and have...