Dodgeball with a curve
The OHS has made the executive decision to play dodgeball instead of powder puff football for the homecoming week. The game took place in the big gym at OHS at 7 p.m. on Monday, Sept. 17.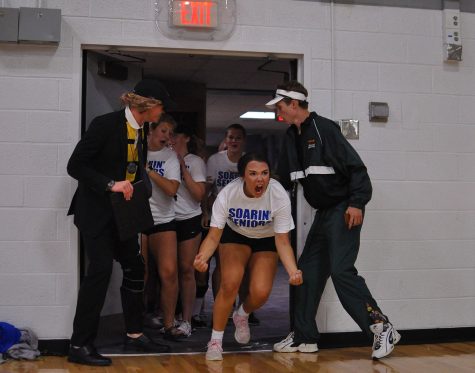 Each grade was responsible for putting together their own team. Student council member, Carson DeKam, said, "The referees are Young Life leaders because they are very active with the high school kids in our school." The Young Life chaperones created a positive environment. There was a total of six teams signed up. Two teams of seniors, two teams of juniors, one team of sophomores and one of freshman. Many of the senior and junior girls who had previously been a part of the powderpuff football game for homecoming week were disappointed to see it discontinued, but ended up having a fun night.
Out of the eight teams, only three teams could be crowned victorious. In third place, in a nail biting victory, the Spicy Sophomores who took the win against the Jurassic Juniors. In the championship match, there was a landslide victory. The Soaring Seniors took first against the Jimmy Juniors. The Jimmy Juniors put up a fight against the Soarin' Seniors, who wiped out many of the other teams right away. Coach Ethan Walter from the Jimmy Juniors said, "It's all about being mentally prepared, and we weren't all there tonight. We had little to no preparation. If we had another week, the outcome would of been a different story."
Even with the original plan for the evening being switched last minute due to the weather conditions, the turnout was better than expected. OHS will now reconsider doing dodgeball next year instead of kickball.