Kicking their way to victory
Last year was the first year the OHS has declared dancing a competitive sport. This year they are taking on their second year working hard to improve what they started. The OHS Dance Team shows how important it is to have teamwork with a large group of dancers for the best outcome on performance day. On Nov. 30 the junior varsity Jazz and Kick placed first along with varsity jazz; following that, varsity kick placed second. Overall, the team did very well and can only improve from here.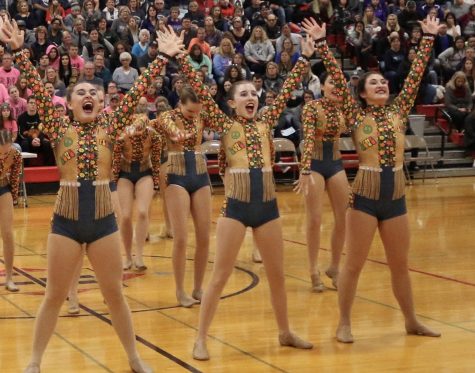 This team has shown Owatonna what it really means to work together and has made a huge impact on how people view the sport of dance. Captain Morgan Blood said, "I love being able to bond as a team and being able to push each other to always do our best. I also love to compete and show everyone what we work hard on during the week at practices." This group of girls show their love of dance with the amount of effort they give to compete and dance their hardest.
Occasionally the dance team will perform at football halftime games and are going to try to perform at some basketball games this upcoming season. Last year the dance team did very well for their first year being an OHS team and has worked really hard to set a good foundation for future years. The team is going to take on about five competitions, not including sections. The team has improved on different skills to keep the routine sharp and they work on their endurance everyday to have an even better dance season than last year.
The dance team has a community show for the public on Jan. 26 and  competition on Jan. 31 in the OHS gymnasium. The team has been working very hard on learning choreography for both kick and jazz everyday after school from 3:00 to 5:00 p.m. as well as working on conditioning and technique during practice to keep bettering themselves as dancers for competitions.