OHS Counselors reach out a helping hand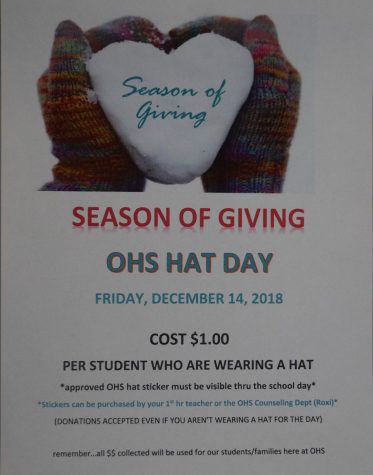 The OHS Counseling Department is taking a stand to help provide students and families in need of extra help around the holidays, and over winter break this year. This fundraiser is to help students who do not necessarily get Christmas gifts or to help provide meal options for the long break. With the goal to go above and beyond previous goals, the counseling department is working to encourage more students to participate this year.
Last year, students were encouraged to bring in money or a non-perishable food item, and for each dollar or item donated, students would receive a ticket to have their name placed into a drawing. The food was then stacked in the career center and distributed to families who would need extra help with food over winter break. This year, they have opted out on having students bring in the non-perishable food for a couple reasons. One of the more significant reasons was because the recent collection for the state tournament. They had a limited amount of participation and that made them question if they would have participation in this fundraiser. The second reason involves distributing the food. OHS Counselor, Mrs. Nancy Williams said, "If we have the money, we can get the grocery gift card, which is way easier to give to families than delivering these huge boxes which we have done in the past."
"
If we have the money, we can get the grocery gift card, which is way easier to give to families than delivering these huge boxes which we have done in the past."
— OHS Counselor, Mrs. Nancy Williams
This effort is not only for students and staff within OHS to participate, but rather a community effort. People within the community are also willing to make donations. A daycare within Owatonna has donated to the collection last year, and this year there is a book club who has shown interest in donating. Federated has contacted Mrs. Williams to make a donation of $250 to purchase grocery gift cards, and Trinity Lutheran Church has also shown interest in helping out.
Activities include:
Dec.14 – Hat Day – Students who wish to wear a hat this day will have to pay one dollar (sticker will be placed on the hat).
Dec. 19-20  – Staff can pay five dollars to wear jeans
Dec. 21 – Friendly competition between departments. A post will be made on Magnet for students and staff to vote on which departments festive selfie is the best. Over lunch, OHS Students and Staff will be asked to cast their votes by placing money in the box corresponding to their department choice. 
For every dollar a student donates, they will receive a ticket for their name to be drawn for various prizes (prime parking spot, husky gear, prom tickets, etc).
There is a fair share of students at OHS who qualify and receive free and reduced lunches. Both Mrs. Williams and Mrs. Tami Langlois kept reiterating the struggle that can be placed on a family when it comes to providing more meals within a day. Mrs. Langlois said, "I think kids are always appreciative of anything that they get, but many of the kids, when we give them the gift cards, they don't look to spend it on themselves. They look at wanting to spend it on some of their siblings or their parents."
As counselors, seeing the students have selfless attitude, or even the occasional thank you card from them or the parents shows the impact that they have within their school through holding the collection. They continued explaining the tight pinch that can be placed on larger families during a long break. It was made very evident that these are the families they hope to reach out to for this upcoming winter break. Last year OHS served 23 families, and this year's goal is to service the 21 pre-selected families, and more if other families are brought to their attention in the next few days or weeks. All in all, it is close to the same number.
All of the donations and gift cards are distributed to the families the week before break, generally the last two or three days. Different kids and situations are chosen every year, so students are generally surprised when they learn their family has been selected. An ambition for next year is to help forgive negative lunch account balances.
About the Contributor
Jade Hanson, Editor-in-Chief
Jade Hanson is a senior at Owatonna High School. This is her third year being a part of the OHS Magnet family, and she is ecstatic to be taking on the...