Brand new Huskies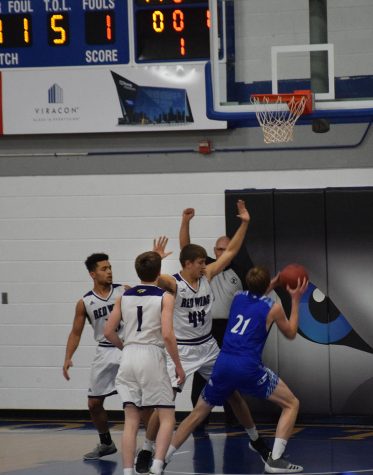 After a quick start to the season, the Owatonna boys basketball team is 2-1 after Friday's win against Albert Lea in overtime with a score of 91-86. The boys basketball team is led by their senior captains Steven Eckard, Jared Fett, and junior Isaac Oppegard.
After graduating five seniors that played a huge role from last year's team, the huskies are looking at almost a brand new line up with little experience. Senior captain, Steven Eckard said, "With a brand new starting lineup with little experience, we came out of the gates a little tentative against Osseo to start the season but quickly found our stride and with our last two victories we are starting to see a lot of positives this season and hope to continue the success Owatonna basketball has had in the past."
With all the success the Huskies have had in the past being a leader in the big nine conference almost every year the new team is looking to continue down the road of success this year. Head coach Josh Williams said, "I am looking forward to our group of players we have returning this year. Our expectations to compete in conference and section will not change. We expect our players to step into our line up and roles to buy in to what we need to do to be successful regardless of where they competed last year. As long as we compete, defend, and play unselfishly we will be in every game." You can catch the Huskies at Rochester Mayo High School Friday, December 21 at 7:30 p.m. for their next game.The Huskies will not be hosting the "Federated Holiday Tournament" this winter break. Instead the team will be participating in the Hibbing Holiday Tournament.