Led Zeppelin's 50th birthday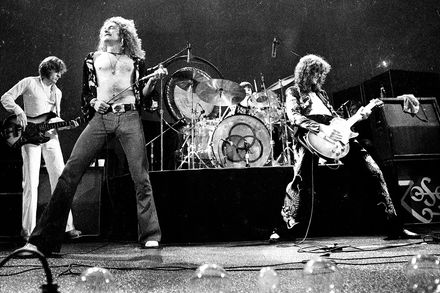 It was 1968 when the legendary rock band Led Zeppelin formed, marking 2018 the 50th anniversary of their formation. Little did they know they would go on to be the fourth best selling recording artist of all time, surpassing artists such as Michael Jackson, AC/DC, and The Rolling Stones. However, the members of the band, Robert Plant (vocals), Jimmy Page (guitarist/backing vocals), John Paul Jones (bass guitar/keyboards), and the late John Bonham (drums/ backing vocals), were able to tell after their first full rehearsal that they had something special.
"In the days of my youth"
Led Zeppelin knew they had something good following their first rehearsal. Page later went on to say that the first rehearsal had been a "Life changing experience." Not long after, the band began recording their first album, "Led Zeppelin". A process that lasted from September to December of 1968 and was released on Jan. 12, 1969. It was received with many negative reviews, with Rolling Stone Magazine calling it a waste of considerable talent. It is now seen as one of the better albums of all time. Rolling Stone now claims it is Led Zeppelin's best album. Ranking it number 29 on their Top 500 albums of all time list. Their debut premiered the sound they would go on to use as a foundation for the rest of their illustrious career. The blend of hard rock and blues rock was a fairly fresh new sound that they undoubtedly popularized.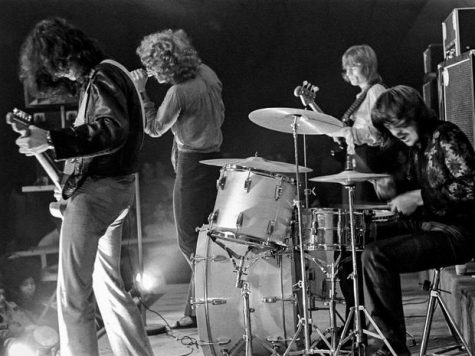 "All that glitters is gold"
Led Zeppelin's second effort, "Led Zeppelin II", was received quite well, but their third "Led Zeppelin III", was welcomed with a number of negative reviews. After taking a year off from touring after the poor perception of their third record, Led Zeppelin released the fourth album to their discography on Nov. 8, 1971. It was released with no title and four mysterious symbols that represented each member of the group printed on the vinyl pressing. The public titled it "Led Zeppelin IV" and the band seemed to roll with that as the title. It has sold 23 million units and is their most critically acclaimed record, with Rolling Stone Magazine even admitting "Uh-huh, they got it down all right." A year prior to the praising review of IV, Rolling Stone had negatively written about III. "Led Zeppelin IV" held a few of their best works yet. "Stairway To Heaven" is regarded as one of the best songs ever written and "Black Dog" is another highly praised Led Zeppelin song. "Led Zeppelin IV" is the fourth best selling album of all time and was inducted into the Grammy Hall of Fame in 1999.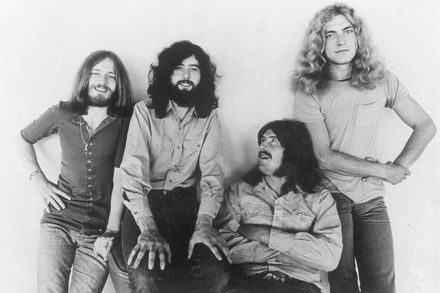 Led Zeppelin stayed together for nine years after the release of "Led Zeppelin IV", releasing five other incredible albums. However, their decorated career as the world's best living rock band ended in 1980 with the passing of Bonham.  On Sept. 25, 1980,Bonham was found dead at age 32 due to alcohol poisoning. The living members of Led Zeppelin released a press release on Dec. 4, 1980. The press release said, "We wish it to be known that the loss of our dear friend and the deep respect we have for his family, together with the sense of undivided harmony felt by ourselves and our manager, have led us to decide that we could not continue as we were." The band chose to disband rather than replace their friend.  
"Ramble On"
The living members went on to work on other music projects, but none could surpass the great legacy of Led Zeppelin. The bands accolades include being inducted into the Rock and Roll Hall of Fame in 1995, the UK Music Hall of Fame in 2006, being the recipient of the Grammy Lifetime Achievement in 2005, and of the Kennedy Center Honors in 2012.
Fifty years later, Led Zeppelin is still seen as one of the best and most influential musical artists of all time. Their hard rock and blues infused sound influenced other legendary musicians such as Guns N' Roses and was undoubtedly an influence on the earlier years of Queen. Their influence can still be seen in today's music as well. Young rock band Greta Van Fleet are being called by some as mere rip-offs of Led Zeppelin.
In honor of their 50th anniversary, the band members have chosen from an array of previously unseen photos to create a photo book titled "Led Zeppelin by Led Zeppelin", as well as releasing new merchandise. These releases are a good way to celebrate the 50th anniversary of one of the most legendary artists to ever do it. The likelihood of these four extraordinary musicians running into each other is very low and those that have heard the works of Led Zeppelin have a "Whole Lotta Love" for it. 
About the Contributor
Dom Nelson, Writer and Editor
This year Dom Nelson is a senior at OHS and is in his fourth year of Magnet. He enjoys music and making it with his friends, binging shows or films with...