Filling the gaps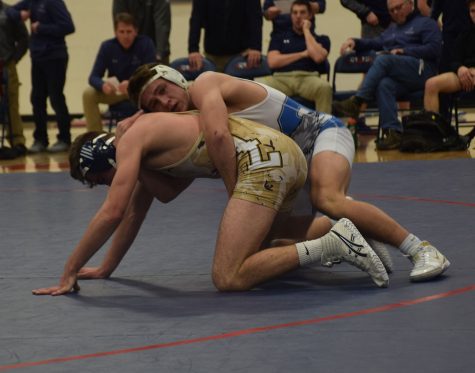 The Huskies have had a strong season so far this year with an overall record of 12-1, and a conference record of 4-0. The team has had some stand out wrestlers in the 2019 season, with sophomore Blake West taking first place at the Rumble on the Red tournament in Fargo, North Dakota and the Minnesota Christmas Tournament. Senior Cade King placed second at the Minnesota Christmas Tournament over break as well.
West is an underclassman powerhouse with a record of 26-0 and is the champion of many tournaments. West's love and dedication to the sport have helped craft him into the wrestler he is now. Part of the love for the sport that keeps him going comes from the upperclassmen. West said, "The upperclassmen are fun to be around, and make practices and meets more enjoyable."
The underclassmen have been performing well this year with help from previous leadership role models, and they bring those leadership skills to practice and competitions throughout the year. With the performance of the underclassmen and leadership from the upperclassmen, the team has filled in the shoes well for last years senior class. Head coach Adam Woitalla said, "We have a lot of young underclassmen starting varsity, but we have a great group of upperclassmen being leaders for the underclassmen and preparing them to compete at a varsity level." The wrestling team will have its last home match on Thursday, Jan. 17 at 2 p.m. at OHS.