Boys basketball strive to win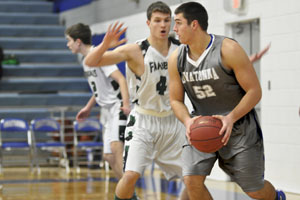 The boys basketball team has been eager to try their best at every game. "A few of the best parts of being on a team is getting close to each player, hanging out with friends, and doing something you love to do," said senior Andrew Peterson. The  team has been working well with each other and the team has had an overwhelming season. The game on Tuesday, Jan. 28 against Albert Lea was a close game. Unfortunately, the team lost, but that does not stop their good sportsmanship and perseverance. The team has their next home game this Friday Jan. 31 against Mankato West.  Senior Andrew Stelter said, "Last time we played them we did good, so I have a pretty good feeling we can get them this time as well." Go cheer on the boys basketball team in the OHS gym this Friday at 7:30. This game is extra speical because once a year Coach Williams and the basketball team take part in a fundraiser called "Coaches vs Cancer". The purpose is to raise awareness about all types of cancer and raise addional funds for cancer research.
About the Contributor
Brandy Schmitt, Photographer/Writer
I enjoy being outdoors. I love writing and photography. I work at KFC. I'm also in Youth Service Leadership here at the high school. My favorite colors...