Exemplary ears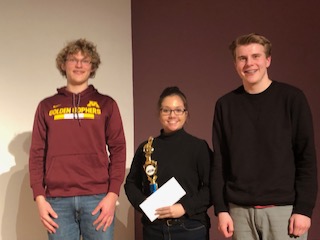 Owatonna's Music Listening team had a very successful season. The team competed in two competitions, regional and state. In the regional contest, there are 20-25 teams and the top two teams from each region proceeded onto state. Owatonna's team got a score of 86 out of 100, earning them first place for the region and a spot at the state competition.
Music Listening is an extracurricular activity in Minnesota and Utah, in which groups of three high school students compete together and study a 100-page booklet that contains various composers and pieces they have written. This year, the featured composer was Ravel, featured genre was Minimalism and the featured ethnomusic was Chinese. Their goal is to memorize as much as they can, so they can succeed at regionals and proceed onto state. This book has sections of musical eras and within each era is a variety of composers. Members must memorize composers birth dates, locations, where they were born. The book also contains information they can be tested on, such as facts centering around composers' education and lifestyle. Junior Kaitlynn Paulson is a member of the team and a musician in OHS' symphony orchestra. Paulson said, "I chose to join because I wanted to learn about the music I was playing. I thought knowing about music theory and the composers I was playing  would be really cool."
The format of the competition consists of five rounds. Four out of the five rounds include having the members identify samples of music played for them. To succeed, members must train their ears to listen beyond the overall song. Adviser Sandra Justice said, "You have to really train your ear to look for little nuance differences. For example, this composer didn't have a harpsichord but this one did, therefore, it has to be this one, because I heard a harpsichord." The fourth round consists solely on providing information from the study guide.  After all the round, the OHS Music Listening team finished twelfth in the state.
The team has undoubtedly developed skills in active listening and critical analysis by learning to identify various styles, composers, periods, and cultures. However, there have been some bumps in the road. One of the teams biggest challenges this season was spelling. In Music Listening, students have to spell everything correctly, including accents on certain letters. The pieces presented can be French, Italian, German, etc. This year, the ethnomusic was Chinese, so trying to spell caused confusion amongst team members. Regardless of this obstacle, the team ended their season on a high note.