Trooper,– a paw-sitive change for OHS
Therapy animals can help to increase empathy and compassion, by helping the release of endorphins to bring joy, express feelings, improve self-esteem and promote positive social interactions. Therapy dogs are being used in hospitals, nursing homes, courthouses, and colleges to reduce stress in their environments. According to Charlotte's Litter, "Evidence has shown that therapy dogs can enhance children's psychological development, improve social skills, and increase self-esteem." Dogs can also teach life lessons and calm fears. Therapy dogs are professional comforters, and Trooper, a blind yellow lab, will now be present within the OHS. Trooper will be very helpful for students with anxiety, depression and students who are under a lot of stress. Trooper will be joining the Depression and Anxiety groups in OHS that meet during academic support. Students are assigned to these groups by their counselors, but any student can ask to be added to these groups to find peace throughout their school day.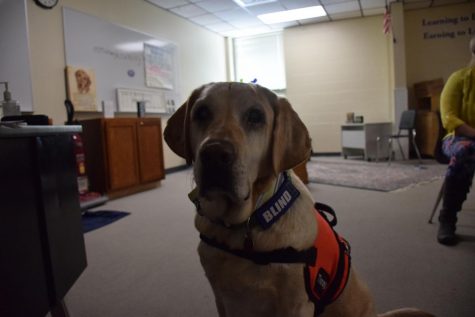 Counselor Mrs. Margo McKay's goal for Trooper is to help students who are having a tougher time getting through their school day. A senior at OHS said, "I was counting down the days until I got to see him because I love animals, and it really does help with stress." McKay has two labs, Trooper and Oakley.
Both pups are certified through The Alliance of Therapy Dogs. To be certified, each dog had to go through a dog obedience class, be analyzed in a public environment and then finally interact with the men and women in an assisted living facility.  Trooper regularly visits people at the Hospice House and The Steele County Detention Center.  Trooper and Oakley have passed all the required tests to become a certified therapy dog and are ready to take action in the high school. Mrs. McKay said, "Dogs can fill unmet emotional needs. Kids in crisis can feel comfort and safety while petting a dog. Trooper doesn't need eyes, he can see with his heart."
Trooper and Oakley's involvement with the students in OHS is yet to be determined. Right now, there is only a small group that is scheduled to meet with him. Trooper stays in the AG building at all times. The hopes are that Trooper and Oakley will be more accessible to students next fall. This treatment is very paw -pular.
About the Contributor
Julia Dallenbach, Writer
Julia Dallenbach is currently a junior at OHS. She is involved in the OHS Dance Team, OHS Student Council, NHS and Big Brothers Big Sisters. Dallenbach...