Shot to the heart
Athlete Profile: Joe Edel
Joe Edel has had an amazing senior year on and off the football field. He was voted captain by his peers for football and helped his younger teammates develop and grow into great players. Some honors Edel has been recognized for include lineman of the year and being voted all-conference by his coaches. He also led the team to another state championship to end his football season. Now, he has recently become a captain for lacrosse, making him a three-time captain for Owatonna Athletics.
"
The past two years with Joe on the team has been quite enjoyable. He likes to have fun and is a good teammate."
— Coach Kingland
His teammates knew his potential and leadership qualities from being around him. During his lacrosse career, he has won Most Valuable Player on defense for two years in a row. Junior teammate Zach Weise said, "It's always so much fun to have such a good guy on your team to help lead your team in the right direction." Edel has a great sense of leadership and knows how to help out when he is needed.
Edel is now beginning his third year on the Owatonna Clay Target Team (OCTT). From the start, he has been a solid shooter for the team. This year, Edel is also one of the four senior captains. Edel said, "My favorite part of trapshooting is the relaxed atmosphere of the coaches and shooters. We all are just having a good time." Edel made it to State last year and shot an average 24, making him only one of five shooters to make it to the Alexandria Tournament. This is quite a prestigious achievement because one has to keep an almost perfect record to make it there. Not only does he excel at shooting, but he also puts extra attention towards making new kids feel welcome and introducing them to the team.
---
Finding a mentor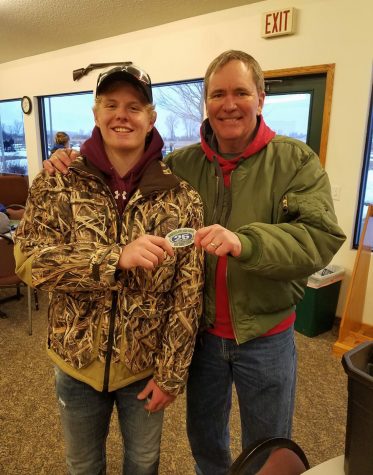 Edel found a mentor in Dave Schroeder, one of the founding OCTT coaches. Coach Schroeder was the head coach for three years until he lost his battle with brain cancer on January 28, 2019. Edel said, "Being someone who is always hunting, I didn't need much help shooting the clays, but the inspiration and guidance I received from Coach Schroeder was surreal. That man was always at the range helping everyone. The man was a gift from God." Schroeder meant a lot to the team and made great impacts on the shooting range and the teams future. Edel was saddened by his passing but uses the life skills he taught him in his everyday life.