Business in the sunshine state
Over 10,000 students are making their way to Orlando, Florida for five days to compete against each other for their chance at glory at DECA Nationals. Seniors, and DECA officers, Molly Hawkins, Dawson Ringhofer, Mason Rhoades, Matt Segler, Matthew Bueltel and David Keller, will depart from Minnesota with goals set high as six out of over 10,000 competitors. They will be accompanied by longtime DECA adviser, and business teacher at OHS, Mr. Scott Pierce.
Hawkins, Ringhofer and Rhoades will be competing in the School-Based Enterprise event: they will present a paper with at least 40 pages on the in's and out's of OHS' school store. On the contrary, Segler, Bueltel and Keller will be presenting their chapter campaign and attending Thrive Academy for two of the days. Keller said, "A lot of work had to be done, but it's really cool to see my fellow officers and me all succeed with a trip to Orlando."
"
These kids have been working hard all year and I know they'll do a great job."
— Mr. Scott Pierce
Keller is not wrong about the amount of work that is put in. The road to get to this point has not been easy. All six members have been battling in the DECA trenches for four years. To now make it to the point of DECA nationals, Hawkins said, "It's definitely been a grind to make it to this point, but after over two and a half months of perfecting our paper, that work we put in was definitely worth it."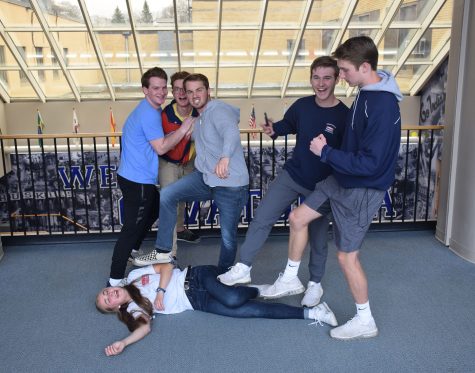 All six competitors feel they are ready for Nationals, and Mr. Pierce is confident in their abilities. Mr. Pierce,  said, "These kids have been working hard all year and I know they'll do a great job." The endgame for these six is having their name called in front of those 10,000 people and to walk across the stage to collect their award.
Nationals will be held from Friday, April 26, to Wednesday, April 31, at the Orange County Convention Center in Orlando, Florida. OHS students can wish the members competing for the best of luck as they depart from the OHS Friday morning after the first hour.