No fear of committment at OHS
Four OHS seniors sign on to play at the next level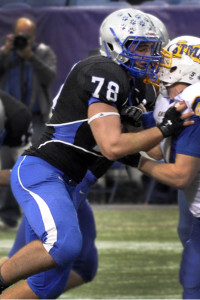 With the NCAA commitment date being today Feb. 5 many Owatonna High School students have been committing. OHS is holding a short ceremony for the athletes that are committing to Division I or II colleges. Seniors Ty Sullivan (football), Luke Wanous (football), and Katlin Ptacek (soccer)
now join the ranks of Andrew Stelter for students that are signing today on Feb. 5. Seniors Aaron Peterson (football) will be signing at a later date for Division III. Kalley Schwab (diving) committed to University of St. Louis which is a Division I school, but will not be signing until later this spring. Schwab and Peterson will be joining the ranks of senior Hayden Holland (lacrosse). Juniors, Peter Jones (golf) and Kaylea Ahrens (volleyball) will be signing next year.
The signing ceremony will be held at 2:40 p.m. in the junior
commons at OHS. Good luck to all of you as you move
onto the next step in your life!