Unsung Heroes Part I
(Part 1 of a 3 part series)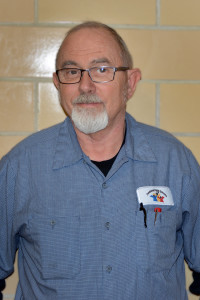 A hero is someone who is admired or idealized for courage, outstanding achievements, or noble qualities. There are many modern day heroes in the world; policemen and women, firefighters, military men and women, doctors, and many more. There are also heroes that have not been recognized. These are the unsung heroes of the Owatonna Senior High School.
They are the people that make a difference. Students do not realize that they have their very own heroes in the school. Some of these heroes would be the custodial staff. One might think that they just wipe floors, clean bathrooms, and pick up trash. In reality, they do tremendous things. Many think that they are just custodians. They clean the school and make things tidy, but they do more. They clean up the snow that's blocking the exits. They clean up the horrendous messes after lunch. They even stay after sporting events to make sure that the bleachers, hallways, gymnasiums, and fields are clean and trash free. They make sure the school has a clean environment. That is an amazing thing being done. Without the custodians, the high school would just be one big mess. Head custodian Mike Endicott said, "The thing we want most is for the kids to pick up after themselves during lunch. Cleaning up the cafeteria is probably one of our biggest headaches." It is not just a headache for the custodians, either. Others think it is quite the headache, too. Students want to sit in that spot that is covered in trash. It is a simple job of picking up after yourself. Not only do they maintain a clean environment at the school, they make it safe as well. They remove snow and this year, it seems to never end. They make sure that the students have a safe venture in and out of the school, making the exits clear of snow so there are no obstacles in case of emergencies.
They do not risk their lives for this country or save people from disease, but they make sure that the school is clean and safe, and they love doing it. Endicott said, "I'm working with a good group of guys that get the job done even when we wonder how it's going to get done." They deserve as much respect as a doctor, a police officer, or someone in the military. They create a positive impact on not only the school but the students as well.
About the Contributor
Ethan Anderson, Author
I play soccer and I am an author of the Magnet. Mrs. Wagner is awesome and so is food. Junior class of 2015. Social media is my life. Twitter. Instagram. Welcome...