Nirvana on MTV Unplugged: 25 years later
It's been 25 years since Kurt Cobain's death. He died of an apparent suicide in April of 1994 at the age of 27 and Cobain has managed to stay a polarizing character who's music is taken in by all generations. Cobain and his band Nirvana capped off their illustrious career with an iconic performance on MTV's Unplugged series, which aired 25 years ago this month. 
Cobain struggled with a plethora of issues at a young age, his parents divorced when he was eight years old, and he was subject to consistent bullying in his years at school. He dropped out of high school his senior year, became a janitor, and later on decided to focus on music. 
He formed the band Nirvana with bassist Krist Novoselic and they cycled through drummers until sticking with Dave Grohl in 1990. Initially, Cobain enjoyed the liberating freedom of writing and performing music, but following the massive release of Nirvana's 1991 record Nevermind, he had a difficult time dealing with the fame that followed him. Prior to Nirvana's explosion, Cobain had been desperate for fame, but he soon realized fame came with negative side effects he was not expecting. He wasn't able to enjoy certain freedoms he used to be able to. The extremity of Cobain's fame left him unable to enjoy the privacy he used to have. All eyes were on Cobain and his band.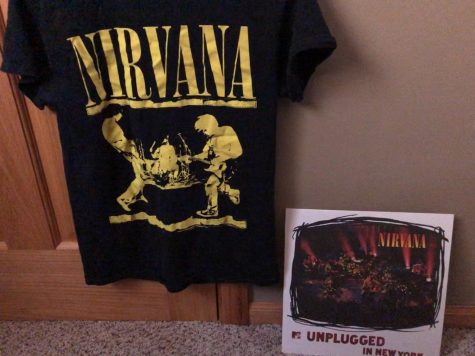 Nirvana lasted seven years, forming in 1987 and disbanding in 1994. Their demise was a product of Cobain's suicide and his death sent shock-waves around the world. He had been the frontman and genius behind Nirvana and because of his death, Nirvana would cease to exist. The band's run as the most popular rock band of the early 90s had come to an end. However, Nirvana had one huge last hoorah. 
MTV's Unplugged series started in 1989 until it ended in 2009, just for it to be rebooted in 2017. Over the 22 years, it has been airing, no performance has been as impactful and iconic as Nirvana's. The performance was recorded on Nov. 18, 1993, but wasn't released to the public until Nov. 1, 1994. This means that earlier this November would have marked the 25th anniversary of its release. 
One aspect that solidified Nirvana's Unplugged performance as an immortal moment in music history was the sheer eeriness of its stage setup, whether it was intentional or merely a coincidence. It was recorded around four months before Cobain's suicide and the setup, as well as the songs (mostly consisting of covered songs, a decision which broke the norm of other Unplugged performances), have been said to reflect just how poorly Cobain's mental state was towards the end of his short-lived life. The setup was dressed with candles and flowers, which scarily resembled a funeral scene. 
Nirvana's performance on Unplugged remains unprecedented by other Unplugged performances because of not only the artistry and incredible song material, but also because of its importance and symbolism that may have alluded to Cobain's suicide. There isn't much celebration surrounding the 25th anniversary of its release, but Nirvana's YouTube channel has released unedited clips of songs from the performance, as well as rehearsals. Nirvana's MTV Unplugged performance was a quintessential showing of musical excellence, to say the least, and left a goose egg on musical history, regardless if there is a big deal made out of its anniversary or not.