Stay connected through Netflix Party
Quarantine can be lonely and boring at times. Students are missing their friends and the fun that comes with hanging out together. Despite the setbacks due to Covid-19, students are finding interesting ways to stay connected. Even while practicing social distancing, students have found a way to recreate what it is like to go out to the cinema with friends. Friends have done this by creating a Netflix Party.
Netflix Party is a chrome extension that lets people watch movies and shows with their friends while being able to chat with each other at the same time. The "host" of the party decides what to watch and then others join. There is a sidebar that lets everyone text each other while the scenes are playing.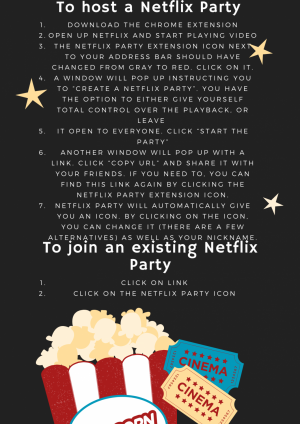 Netflix Party does a great job of recreating the feeling of going to the movies. It connects friends through the screen. There are many benefits on the Netflix Party chrome extension. First, anyone can participate in the comfort of his/her own home. No need to drive or "get ready" to watch a movie. In addition, it is also cost efficient. The extension itself is free, as long as you have your own individual Netflix account. Snacks that you make at your house are cheaper than those at the cinema. Overall, Netflix Party is a great way to stay in contact with your friends while social distancing.
Netflix Party has racked up fantastic ratings and over 7,000,000 users. Seniors Asia Buryska and Ruth Livingston have watched many movies together in a Netflix Party. The girls said, "Ferris Bueller's Day Off was the best movie to watch together with friends." The girls have watched four movies together already and plan to continue using the extension. Senior Kaitlyn Madole, who is also in the party, said, "I have really enjoyed being able to watch movies with my friends, even though we can't physically watch them together."
Although the Class of 2020 is dealing with the loss of their senior year, they can still find ways to stay connected through electronic devices. Feeling able to stay connected is crucial during a time like this.