How the stay-at-home order is affecting teen mental health
Online classes combined with stay-at-home orders are leaving teens feeling isolated and alone. Beyond the typical stress of trying to succeed in school, maintaining friendships and staying safe, teens are now facing a new challenge, coping with the mental impact caused by the COVID-19 virus.
Teens are not used to being isolated in their homes; isolation combined with stress can deteriorate students' mental health. Dr. Christine L. Carter, in her article How to Help Teens Shelter in Place, said, "Teenagers and college students have amplified innate, developmental motivations that make them hard to isolate at home."
Not only is it hard for teens to stay isolated at home, but it's affecting their mental health in the process. It's hard for teens to be missing out on activities and events, but it's okay to be upset with the situation. OHS Counselor Ms. Tami Langlois said, "Advice would be to not isolate yourself– that's easy to do when you are at home– make sure you continue to reach out to friends and family for support. It plain stinks that we are going through this, and allowing yourself to have those feelings of being upset but not allowing yourself to stay in those feelings for too long." 
Teens are struggling to cope with the loss of their spring semester, especially seniors, who are missing their last of everything in high school. Senior Maritza Vega said, "I wanted my senior prom, and my last [theater] show at the OHS. When we left before spring break I didn't think it could be my last time walking the halls at OHS."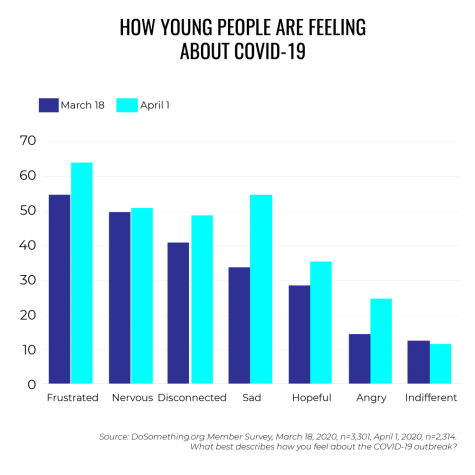 Those feelings are very common among teens right now. According to a poll DoSomething, as of April 1, 55 percent of teens polled reported feeling sad.–Of those 55 percent, 61 percent expressed feeling heartbroken and disappointed.
 Though they generally feel alone in quarantine, this generation of teens is more connected through social media than any other generation before. Dr. Sarah E. Domoff, in her interview done by Cleveland.com said, "Teens are using social media to stay connected to friends and stay caught up with the news. Perhaps one good thing about the ubiquity of social media for teens is that there is already a mechanism in place that teens can use to stay connected with peers while social distancing."
It's difficult to avoid stress at a time like this, but there are a few ways to reduce stress and increase mindfulness. According to the Center of Disease Control, some of these activities include:
Take breaks from watching, reading or listening to news stories, including social media. 

Take care of your body. 

Take deep breaths, stretch, or

meditate

. 

Try to eat healthy, well-balanced meals

.

Exercise regularly,

get plenty of sleep

. 

Avoid alcohol and

drugs

. 

Make time to unwind. 

Try to do some other activities you enjoy.
Although it may be difficult, it is very important to balance time with screens, social media and healthy activities for the body and mind.