Hometown Color
As the COVID-19 pandemic ravages through the United States, the economy has seen millions of US citizens filing for unemployment. Many are being furloughed as well, meaning they are going without pay for the time being but will return to their jobs once it seems fit. The virus has impacted certain job areas more than others, one being the music industry. Although some of the superstars in the global music industry don't need to worry about funds, many local artists do.
Minneapolis has always been dense in music culture and is home to many venues, such as the iconic First Avenue – made world-famous by Prince's Purple Rain film.  A very large portion of musical artists rely on live music performances for their income, and with the effects of COVID-19, no live performances are taking place. This means that artists have to take to other outlets to make money. For instance, certain music labels and music platforms (such as popular online music service Bandcamp) have loosened their reins on how much profit actually filters into the companies themselves. This means that some artists are making more money off their music than they were before.; however, not every artist has an opportunity such as this. 
Owatonna native Sean "Har Mar Superstar" Tillmann was on a US tour with his fiance Laura Hauser in their musical duo, "Heart Bones," when the coronavirus started finding its way across the country. Unfortunately, due to the severity of the virus, they had to postpone the remaining shows of the tour. Upon returning home, Tillmann and Hauser had a realization. Tillman said, "We knew people were going to be stuck at home for an undetermined amount of time which meant two things: people needed activities for themselves and their children, and many of the same people would not be able to earn money during a shutdown. Many of our friends work in the service industry, and I had heard that First Avenue set up the Twin Cities Music Community Trust to help out just those people." 
The Twin Cities Music Community Trust benefits those involved in the large music community of Minneapolis-Saint Paul. They take donations that filter into those who are a part of the music community. Donations can be made through their website. The creation of this trust inspired Tillmann and Hauser to create Coloring Books For A Cause, an organization that designs coloring books to help benefit the businesses the books are created around, as well as those involved in the creation of the books. Their mission statement says, "We will be donating a large portion of our proceeds (about 60 percent) to the business that each book is focused on while also supporting the fine artists that drew the pages and providing valuable info on how to support the subjects of said drawings." The artists involved in the designing of the First Avenue coloring book are Stacey Combs, Michael Gaughan, and Hauser.
The Importance of First Avenue
The First Avenue coloring book is not the only one available for order as of right now. There is a newly released book benefitting both Grumpy's and Palmer's Bar in Minneapolis. The artists included in the design of it are: Sarah Davis, Erica Illich, Zachary Edward Clair Swenson, and Hauser. 
 The First Avenue coloring book was also released very timely, as the venue just celebrated its 50th year of running shows. On April 3 of this year, Tillmann hosted an hour long special in celebration of the venue's anniversary that included performances from some local musicians via livestream.
Choosing to give proceeds to First Avenue and it's Twin Cities Music Community Trust was presumably an easy decision for Tillmann, as he has been around and involved in the culture surrounding the venue. He began performing shows there at the age of 15 in the smaller side room attached to the main room, 7th Street Entry. He played shows there in his band Calvin Krime in the 90s and has been involved with many events in both 7th Street Entry and the First Avenue main room ever since. First Avenue has an undoubtedly important effect on Tillmann. Tillmann said, "I feel like I grew up and learned so much there. Plus, I cultivated many lifelong friendships and saw so many formative shows there." Twenty- seven years after he started playing his first shows there, First Avenue still holds an important place in Tillmann's heart. 
Initially, Tillmann and Hauser planned on sending out the coloring books as a mail order operation from their home, but the response to the coloring books was so large that they had to involve the company that sends out Tilmann's Har Mar Superstar merchandise, Ambient Inks. Tillmann said, "I'm so glad we could provide work for them during this uncertain time as well."
"
It turns out people are still in love with coloring books, and that brings a huge smile to my face.
— Sean Tillmann
Coloring Books For A Cause doesn't plan on stopping anytime soon. Tillmann said, "It turns out people are still in love with coloring books, and that brings a huge smile to my face." According to Tillmann, there should be up to 5 or 6 books of original artwork available for purchase within the next month, one of them being a second First Avenue book. This time around they plan on including more national acts such as Yeah Yeah Yeahs, The Misfits, Björk, and The Hold Steady. Updates and more coloring books will continue to be available on their website. 
About the Writer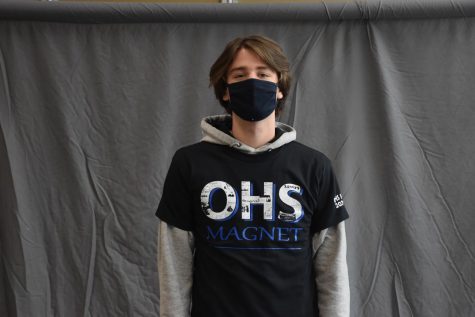 Dom Nelson, Writer and Editor
This year Dom Nelson is a senior at OHS and is in his fourth year of Magnet. He enjoys music and making it with his friends, binging shows or films with...