A celebration for the ages
At the end of the school year, OHS seniors celebrate their graduation with many events, such as the graduation concert, elementary walkthroughs and commencement. This year, most of those events have been canceled due to the COVID-19 pandemic. In lieu of the restrictions set by the government, OHS administration worked with the graduating seniors to create a graduation ceremony that everybody would like while not breaking social distancing guidelines. Eventually, the staff and seniors settled upon the graduation that would be used for the Class of 2020. It ended up being a full day of celebrations.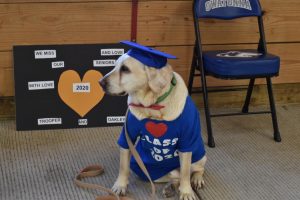 At 9:00 a.m. on Sunday, June 7, members of OHS held a drive-up diploma handout where seniors could get their diplomas from honored guests and take pictures by professional local photographers. Seniors were divided into three groups by last name and we're given different times to pick up their diploma in order to decrease the number of people at the building. Families were to remain in the car as the graduate got out and received his or her diploma. OHS Principal Mr. Kory Kath said, "It was an incredible feeling to be able to congratulate the seniors and honor them for their hard work."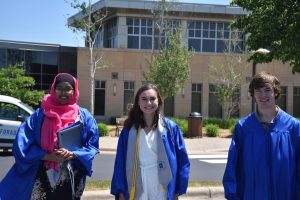 Then at 2:00 p.m., the commencement ceremony began with a few words from Mr. Kath and Superintendent Mr. Jeff Elstad. After that, seniors Elise Sande, Hamdia Idow, and Joseph Brueggermeier gave their commencement speeches, which covered both their time at OHS and their perseverance through the pandemic. Idow said, "Speaking to them was just an unexplainable feeling and I really hoped that my story inspired them." At the end of the ceremony, assistant principals Mr. Phillip Wiken and Ms. Hollie Jeska read off the names of the graduation Class of 2020. Families tuned in on the ceremony through radio stations and honking was allowed to celebrate the speakers and their graduates.
To end the day, the lights of the OHS track and the front of the main building were lit up from 9:30 p.m. to 9:50 p.m., 20 minutes for the Class of 2020. In front of the building, students and the families were able to take pictures for the last time in a picturesque site designed by Mr. Marv Tjaden and Mr. Erik Eitrheim. At the track, Mr. Jeff Williams and Mr. Mark Achterkirch hosted families in a final celebration together. Mr. Achterkirch said, "There have been many relationships established with our students and it is always hard to say goodbye."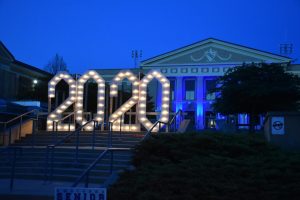 This will be a graduation that all people involved will remember. OHS staff agrees that this was the best outcome that was possible with the current restrictions. Mr. Kath said, "We all really enjoyed the entire day and our whole goal was to make sure every senior felt honored at the events." Despite this graduation being a lot different from the normal ceremony, it was a great substitute during the pandemic. Mr. Achterkirch also said, "While it was not our traditional graduation ceremony held at the Four Seasons Centre, I believe it was a great turnout, all while adhering to the MDH and CDC guidelines." The staff of OHS are not the only ones who enjoyed the impromptu graduation, the seniors also enjoyed it. Idow said, "It was during a very historic pandemic where not much could've been done, but Mr. Kath and the rest of the school faculty have shown us the best they could've done for us and I really appreciate it."