OHS Homecoming King and Queen Coronation 2020
Homecoming is something that every OHS student looks forward to each year. Events such as the homecoming football game, dance, parade and week of festivities marks a typical homecoming at OHS. This year, homecoming is going to look a little different due to COVID-19. For "Part One" of OHS Homecoming this year, the week of Sept. 28-Oct. 2 marked a special events week that included outdoor volleyball, an outdoor movie and a "downtown cruise" that replaced the traditional Homecoming Parade. This week also included dress up days for OHS students. One thing that did not change is that there was one queen and one king selected out of the final 12 queen candidates and final 14 king candidates and they were crowned the 2020 Homecoming King and Queen. From the top twelve queen candidates and fourteen king candidates, the top five queen and king candidates were voted by the student body. This year, the top five queen candidates were Emma Dahnert, Sarah Kingland, Grace Linders, Wilo Omot and Grace Wolfe. The top five king candidates were Payton Beyer, Ashton Jensen, Dominic Nelson, Lane Versteeg and Jonathan Wall. On Wednesday, Sep 30 at 6:30 p.m., this year's OHS Homecoming King and Queen were crowned on the OHS football field. 
Wilo Omot: Homecoming Queen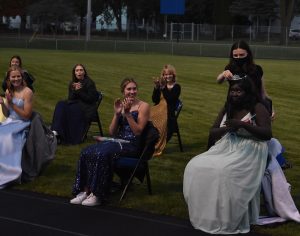 In the 2020 socially distanced homecoming coronation, senior Wilo Omot was crowned as Owatonna High School's new Homecoming Queen. Omot is involved in many school activities, such as managing the football and baseball teams, being a captain of Color Guard and Marching Band, and a member of student council, mixed roots, and Diversity Inclusion Group. Outside of school, she works with children at her local church and teaches Sunday school.
Omot would like to thank her family and friends for helping her get to where she is now. Omot said, "They have sacrificed so much for me, so I want to say thank you to them." After high school, Omot plans to go to a four year university to study psychology and work as a child therapist. After being crowned as the Homecoming Queen, Omot said, "I think it's really special because I guess a lot of people like me."  Omot is the first student of color to be Homecoming Queen in OHS history. 
Ashton Jensen: Homecoming King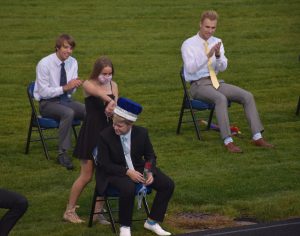 Senior Ashton Jensen, crowned as the 2020 OHS Homecoming King, is a very active member in the school and in the community. Jensen is the student body president at OHS and is involved in various extracurricular activities such as football, DECA, math league, jazz band, speech and more.
Being such an active member of the community, Jensen says, "It's humbling, looking around and seeing the guys I'm up there with, from great football players to great theater kids to great musicians. It's just humbling knowing the student body chose me.. it's just powerful." When asked about what got him to this point in his life Jensen said, "A lot of growth comes from yourself." That being yourself and growing in that department goes a long way.
Jensen's future plans include giving back to his school and community. He would personally love to administrate here at the OHS. Jensen said, "I want to continue to help people and have an impact on their lives." He plans on achieving that goal by continuing to build great connections and relationships and also, as Jensen said, "Keep my nose to the grindstone." Jensen chose to celebrate his victory "with the boys". Jensen said, "I like all these guys and want to go out and have some fun with them."
---
The Top 12 Homecoming Candidates will be honored at halftime of the girls soccer game on Friday, Oct. 2 .