OHS Girls Cross Country runners Brady and Valen qualify for state
The Owatonna Girls Cross Country had a memorable season. They finished the season very successfully and had two runners qualify for state. Freshman Carsyn Brady qualified for state by placing 16th at the section meet then 16 seconds later senior Zinash Valen finished in 17th place qualifying her as well. Qualifying for state this year was a very difficult task with section 1AA being very talented and competitive this year. This is the first time in Mr. Leer's career of coaching that the Huskies had two runners qualified for state in the same year.
Brady was Owatonna's number one runner last year only being an 8th grader and did not disappoint her freshman season. Brady had high hopes coming into the season, she said, "My goals were to improve my time and qualify for state."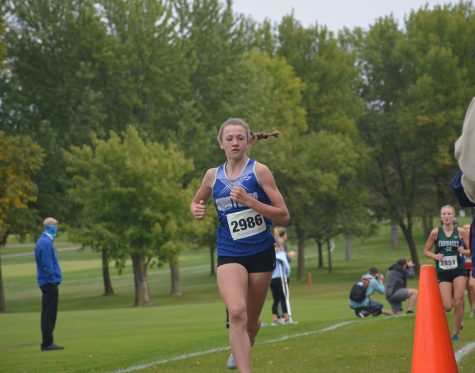 Brady has accomplished a lot at a young age and is a very talented runner, running in the state meet as an eighth grader last year and qualifying this year as a freshman. Brady has been a key contributor for the varsity team ever since she joined cross country in seventh grade and quickly became their number one runner. Mr. Leer said, "Carsyn is a great athlete and a great competitor. It is also very cool that she has qualified for the state meet for her second straight year. She is such a big part of our success. She helps our scores stay low." With COVID-19 canceling the state meet this year, Brady has been able to keep a positive attitude, she said, "It's definitely disappointing that there is no state meet because that's what we all work for. But there's always next year." Outside of cross country, Brady is a three sport athlete, involved in basketball and track. Her goals for next year are to keep improving her time and qualify for state again.
---
Last season Zinash Valen was a member of the girls varsity cross country team for most of the meets, but she wasn't satisfied with that. With Valen being a senior captain she wanted to be a key contributor for the varsity team and set an example for the younger runners. Valen said, "I wanted to be a point earner for my team. My biggest goal was trying to keep up with Carsyn Brady and to run with her at practices and at meets. Since I was a captain, I also wanted to be a motivator to the younger runners on the team. I didn't expect to qualify for state. I just really wanted to have my best season."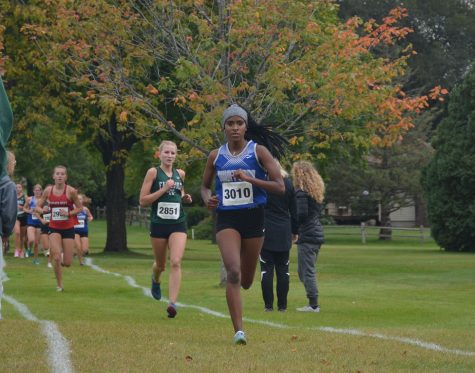 Valen has been running cross country since seventh grade and has seen major improvements over the years. Mr. Leer said, "Since Zinash started she has been one of our most promising runners. This year, her senior year she really blossomed into the competitor we always knew she could be." Valen definitely emerged as a key contributor for the Huskies being their number two runner but she had an even bigger role, being a leader and role model for the team. Mr. Leer said, "Zinash is quiet vocally but the example she sets in practice speaks very loudly. She also did a great job being positive with her teammates throughout the season." Valen, like Brady, tried to keep a positive outlook on the state meet being cancelled. She was disappointed that she would not ever get the chance to run at the state meet but was glad in the midst of COVID-19 they were still able to have a season. Valen also runs track in the spring, you can find her running year round as she loves to surround herself with running.