Digging into the rest of the season
 This year the OHS volleyball season, quite different from previous years, is coming to a close.  As a team, the Huskies have put up three conference wins so far, with hopes to take on another next week.  Senior Emily Hagen has the team-high for 14 kills in one match.  In the serving game, sophomore Bella Barrie leads the Huskies with five aces in a match. The libero, Haylee Mullenbach leads the team with record 19 digs in a single match. Despite the challenges of COVID-19, the Huskies have had one of the most successful seasons compared to the past few years.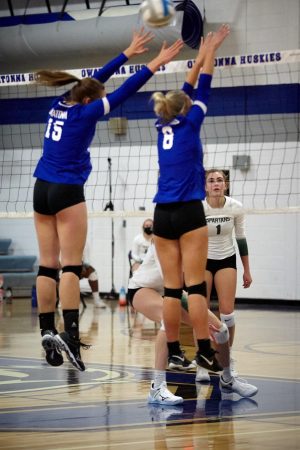 Similar to other OHS sports, the volleyball team has had an odd season without many fans. Each player was allowed two fans for a total 250 people. Hagen's advice to underclassmen is, "Never take your season for granted. Give everything you have at every game and practice." This season, the Huskies have learned as a team that each game could be their last. Even though it has been challenging, the OHS volleyball team has been growing each practice and game despite the final scores. Senior Lanie Schuster said, "This season, we have put more trust in each other and it has shown in how we play together."
With the challenges of COVID-19, the Huskies have done everything in their power to stay safe and continue playing. With many Big Nine teams having to quarantine and cut their seasons short, the Huskies have been making a superior effort in keeping their season. Tolle's strongest message to the Huskies has always been growth over outcome. As long as the team grows in some way each day, the outcome doesn't have as much significance.  First year head coach, Tai Tolle said, "I am most proud of the girl's character; they are caring, kind and respectful individuals." 
  The Huskies play Friday, Nov. 20 at Owatonna High School for their second match against Red Wing. As a district, it was decided that the Huskies will not be participating in sections this season, making Friday their last season game. The game will be available to watch on Owatonna Live.