Fantasy Football: Impact from COVID-19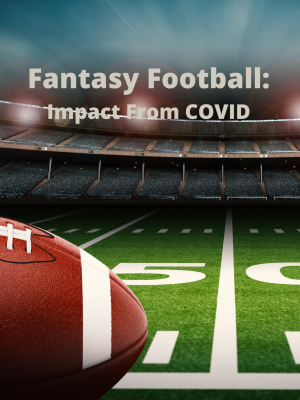 There are 45+ million people that play fantasy football each year, but this year it has looked a little different. COVID-19 has played a huge role in this year's game. One of the changes it has caused is having key players have to sit out, for example Adam Thielen for the Minnesota Vikings had to sit out Week 12 against the Carolina Panthers due to testing positive for COVID-19. 
The change has also taken specific position player groups out. The Denver Broncos had four different quarterback's put on the COVID-19 list and were forced to start Rookie practice squad wide receiver Kendalll Hilton against the New Orleans Saints. It is also taking tolls on entire teams. The Baltimore Ravens and Pittsburgh Steelers game was scheduled for Thursday, Nov. 26  and have rescheduled three different times hoping to play on Wednesday Dec.2. 
Adam Thielen was put on the COVID-19 list and played a big part in fantasy players that have him on their team. Grant Achterkirch said, "It really hurt my team, I was relying on him to get me big points, instead of having one of the league's best receivers I started a backup". Having Thielen being the fourth ranked wide receiver in the league and averaging over fifteen points a game there is a big void to fill with him being forced on the bench. Thankfully, he returned to the lineup in Week 13 and scored 15+ points. 
The Broncos were put in a tough situation in Week 12 against the Saints. Having no available Quarterback and all of them put on the COVID-19 list, many players that had Drew Lock sat him. Some players picked up the practice squad wide receiver and started him at quarterback. Lucas Jensen said, "I picked him up hoping he would strike big this week, but unfortunately he got me negative points and lost me the game". A lot of teams are struggling in depth this season with players having to sit out and some even opting out of the season.
The Ravens and Steelers game was rescheduled three different times. Having players on either of these teams is difficult and is a waiting game, hoping they get the chance to play and get to score a few fantasy points. The Ravens had 20 players on the COVID-19 list as of week 12 including star quarterback Lamar Jackson. Lincoln Maher has Lamar Jackson on his fantasy team, Maher said, "With Lamar being out I had to start my backup quarterback, who performed poorly and lost me this week's game". In Week 13 the NFL had two games on a Monday night. Monday night games are usually featured on television from "Primetime" football. The Ravens also had a game on Tuesday, Dec.8 vs. the Dallas Cowboys.
This year has been a big change for everyone involved. The fantasy world has been affected in many ways, missing one or two weeks from a player will not affect the fantasy team that bad, just so the team is ready for playoffs.