Dahnert's soccer journey continues at SMSU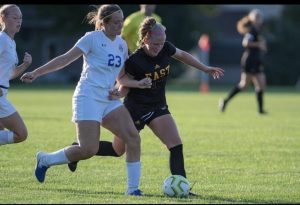 Soccer has been such an important aspect in senior Emma Dahnert's life since she was a child. Now her dream of playing soccer in college has finally become a reality. Dahnert first met the head coach of the Southwest Minnesota State University's girls soccer team at last year's summer camp, then again when attending this year's summer camp in early August. After attending, she got a FaceTime call from the head and assistant coaches, offering her a spot on the Division II girls soccer team. 
Dahnert is looking forward to not only pushing herself in the classroom, but also out on the field. Teammate and senior Libby Janka said, "She's a force to be reckoned with. She holds her ground, has a loud voice, calls things when she needs to and has great tackles. Not to mention she can boot the ball like a God." 
Dahnert assisted with two goals during the season, was named defensive MVP and received an all big nine honorable mention. Nate Gendron Head Coach of the Owatonna High School's girls soccer team stated, "What makes Emma special is not only her talents on the field but her ability to be a leader on and off the field. Emma truly brings her teammates together and makes everyone around her better." The girls soccer team reached the section finals for the first time in fifteen years and had a nine-game unbeaten streak. 
Everyone has a passion, something that they love to do. Something that you can do that makes you feel like you can be yourself. For Dahnert it's soccer.  Dahnert said, "Soccer is the thing in my life that makes me get away from any stress going on. I feel free and just can take time away from the busy day to focus on something I truly love." 
Head Coach of SMSU's girls soccer team Erin Kasmarik agrees, "When we look at recruiting players for our program we look for some of the things you can't teach. We believe Emma's passion for the game, level of leadership, maturity and her commitment to having a growth mindset are great assets to our program." Dahnert signed her letter of intent on November 11, honored and excited to continue her soccer journey at SMSU.