Fantasy Football: Top picks for the playoffs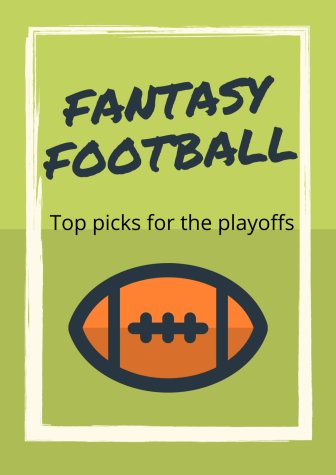 Week 15 is right around the corner and that is the beginning of the playoffs for fantasy football for many Americans. Fantasy football managers all around the country and world are setting their lineups to make a strong push in the playoffs. This time of the year everyone knows which players have the best matchup and best chance to score tons of points for their fantasy team. Here are just a few players that could have a really big week for fantasy football.
Starting off at the running back position you have Derek Henry. Henry is coming off a very strong game against the 1-12 Jacksonville Jaguars where he had 26 carries for 215 yards and two touchdowns. Henry has been putting up crazy numbers like that all year and is getting ready for another big game against the 5-8 Detroit Lions who have struggled against the run all year and have let up the most points for running backs this year in fantasy, we could see Henry having another monster game. 
A sleeper pick this week for the running back position would be Johnathan Taylor for the Indianapolis Colts. Taylor is coming off a great game against the Las Vegas Raiders where he had 20 carries for 150 yards and two touchdowns. Senior Dom Valento has Taylor on his team and has loved what he has done all year. Valento said, "He's consistent throughout every game and he's great overall, I got him late in the draft so he was a steal." The Colts play the Houston Texans this week who have had a tough time stopping the run game. If the Colts offensive line can get a big push we could be seeing huge numbers from Taylor this week.
At the quarterback position there has been one quarterback that has been sticking out the most this year and his name is Patrick Mahomes. Mahomes is having another monster season putting up tons of points and leading the Chiefs to a 12-1 record so far this season. Patrick is coming off one of his worst games this season against the Miami Dolphins who have a very good defense. The Dolphins sent lots of blitzes which kept Mahomes on his toes and made him throw three interceptions. Mahomes is looking to make up for the loss against the Saints this week that took a tough loss against a below average quarterback in Jalen Hurts of the Eagles. Sophomore Mikah Elstad who has had to go against Mahomes this year in Fantasy. Elstad said, "Mahomes is a great quarterback for fantasy because he is great all around, he can deliver a dime whenever and having great threats like Tyreek Hill or Travis Kelce makes him a great fantasy quarterback."Mahomes is expected to put up big numbers this week against a New Orleans team that has struggled lately.
At the wide receiver/flex position there are many players that can make a difference for your team this week. This one player could come up big for you this week and into the playoffs Davante Adams. Adams has been having a great year for the Packers and is looking to keep that going. The Packers play a struggling 4-9 Panthers team who has struggled against the pass all season. Adams has proved all year that he is the top dog in fantasy for receivers and is looking to prove that this week against a young and struggling Panthers team. 
A sleeper pick for the receiver position this week would be Stefon Diggs. Diggs has been having a fantastic season for the Bills all year and has proved that he is one of the best receivers in the league. Diggs used to play for the Minnesota Vikings, but was traded to Buffalo to join star quarterback Josh Allen and the Bills. Diggs is set to have another great game against the Denver Broncos who have struggled stopping the pass game this year. Diggs is definitely someone you should be using in the playoffs this year.
The best part about fantasy football is the playoffs. Freshman Noah Truelson is 10-3 this year and loves the playoffs. Trueslson said "It is super competitive and I like to trash talk my friends." WIth the playoffs starting this week millions of people across the world are getting ready to try and win it all this year. These players are definitely must starts for the rest of the year because of the great matchups they have for the rest of the season.