Dracula: A Comedy of Terror opens tonight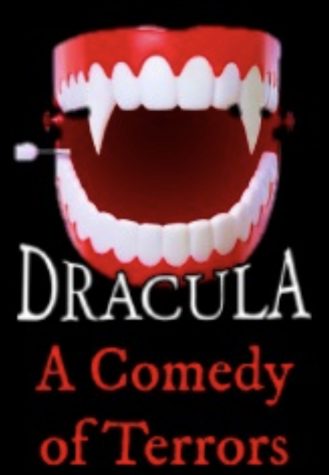 This year Owatonna High School's fall play is Dracula: A Comedy of Terror, plays a unique twist off of the classic Dracula tale. Dracula: A Comedy of Terror is a classic story with a little bit of Mel Brooks and Monty Python to add some comedy. Dracula, Jonathan Harker and Lucy Westfeldt are three of the main characters. 
Senior Zach Liebel who plays Dracula is very excited for the community to see the production in some way due to the circumstances. Liebel said, "I am excited that we can have a show. With so many things being canceled and different it is fun to be in the theater and hang out with friends amidst what all is happening." The virus has impacted the show in so many ways especially on how the cast is able to interact with each other throughout the play. 
The inspiration behind choosing "Dracula: A Comedy of Terror" for the fall play was influenced by Director Erik Eitrheim. Mr. Eitrheim said, "I attended a summer institute for High School Theater Directors taught by Broadway professionals. It was in one of the classes that I came across this particular show and the production team talking about how they brought it to life. The fact that it was a radio production was interesting but also the fact that it is a show that was a show that was all set for a Broadway run until the pandemic struck." 
The cast recorded most of the play via microphone knowing that it would end up being a radio show. The scenes they didn't get before school was shut down were recorded over the internet with microphones. Freshman Sadie Fox who plays Lucy Westfeldt, an independent and bold character.  Fox said, " I am really excited that the people who wouldn't normally get to see the plays are able to listen to it." The cast has worked hard to put together a radio show since they can't have an audience. 
Due to the Coronavirus, the production looks a lot different this year. The fall production will be live-streamed. Senior Sam Buegler plays Jonathan Harker. Buegler said, " We are doing a really fun show, and trying to do the best we can under the circumstances we are under. We will have to do a radio show, so it will be live-streamed."
The community will be able to listen and view the production, either radio show or stream starting Dec.17. Buying a ticket for the show will allow you to listen to it for up to 48 hours. Tickets for the show are $7 and will be available on Sunday night.  To stream: click here