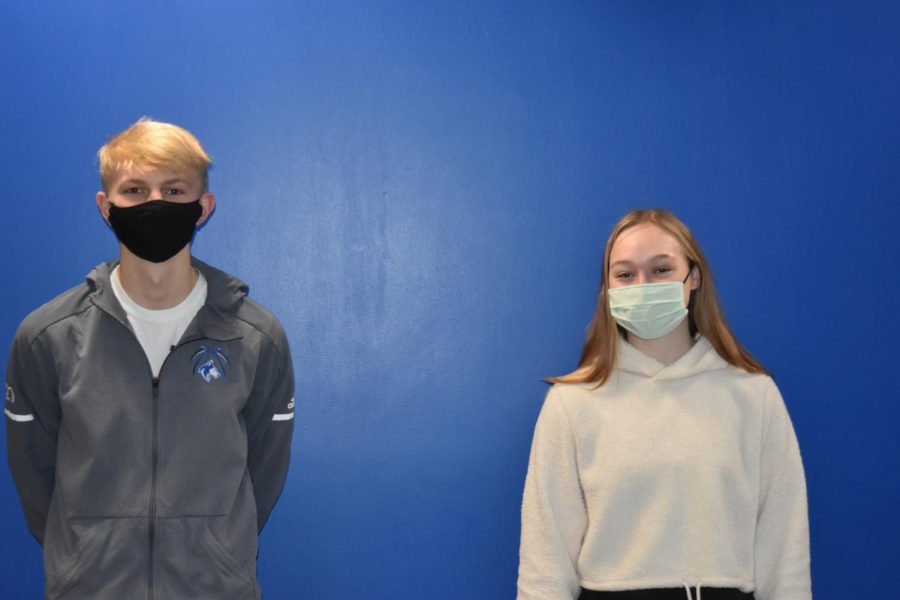 OHS Triple A Award Winners
February 1, 2021
The Triple A award is given to students who exhibit excellence in academics, arts and athletics. A point system is created based on the applicant's accomplishments. The biggest qualification being a grade point average (GPA) over 3.0. Being so involved and qualified allowed both seniors, Sydney Hunst and Lane Versteeg were nominated from Owatonna to the Section selection committee. 
The process begins with an application with the person applying. They also have to submit a letter of recommendation. An essay had to also be turned in about how the three "A's" affected their lives. From there, the winners were selected based on their qualifications and a point system put together based on their success by Minnesota State High School League (MSHSL). The administration then selects a winner. Versteeg was chosen as one of eight students nominated to win the Triple A award throughout the state. The State AAA winner will be announced in March at the State Girls Basketball Tournament.
Sydney Hunst
Sydney Hunst is involved in soccer and hockey. Sports have taught her more than just the physical aspect of things. Hunst said, "Things like time management and working with others as a team are big things that I will take with me in the future." She has multiple accolades and been a part of multiple Big 9 champion teams as being on the varsity teams since her junior high days as well as a three time all conference selection in hockey. Hunst's leadership is a big quality that sets her apart from her peers, as she is a captain in both soccer and hockey. She will continue playing hockey at the college of St. Benedict.
When it comes to academics, Hunst has taken all the challenging classes she could at her time at OHS. Hunst also has to balance the vigorous academic load with more extracurricular activities she's involved in. These include DECA, NHS and DIG. These clubs and organizations highlight her high class room status and involvement in the community.
Arts have also been a big part of her high school experience. Hunst is involved in orchestra and choir. She is not only in the highest orchestra but the highest choir also. Orchestra director, Ms. Sandra Justice said, "Sydney is really good at instilling her passion in others, especially younger students."
Hunst has a knack for success that's undeniable. The drive and passion she has for everything she does has allowed her to rise to the top. This award embodies the exemplary qualities that Hunst values in her life: Athletics, Arts and Academics. 
Lane Versteeg
Lane Versteeg is in soccer, football and basketball. Versteeg has done what few have ever done, play two fall sports at once. He has earned multiple accolades in soccer from all conference in the Big 9 to the US Marine Corps-Semper Fidelis All-American  for soccer . He has also been on the varsity basketball team  for two years. His leadership in these sports also sets him apart. He may not be the most vocal but he leads with his actions and always does what's best for the team. This led him to being a captain on this year's soccer team.
Versteeg excels in the classroom. His hard work and dedication to learning has earned him a spot at the top of the class rank. The most impressive part of his academics is taking all AP classes and doing exceedingly well. Balancing a tough school schedule along with sports, he also finds time to fit in DECA, NHS and student council. 
Choir and orchestra allow Versteeg's high school experience to be diversified. Versteeg said, "It has always been a priority of mine to be part of a wide variety of activities."He takes great pride in his performance, as he is a first chair in orchestra and in the top choir at Owatonna. Versteeg also improves those around him. Ms. Sandra Justice said,"He knows that our ensemble is about each individual doing what needs to be done so the ensemble can succeed."
Versteeg's hard work in and out of the classroom has paid off not only at the  section  level, but also at the state level.