OHS, community COVID-19 numbers trending in the right direction
As the third quarter begins, OHS is back in the hybrid learning format. After two months of distance learning and the OHS and Owatonna community following protocols students were able to get back in the building. As of Feb. 3 there were just 11 OHS students in quarantine, but there are still things for students and staff to improve upon. 
Many of the protocols from earlier in the year remain in place, but there have been some slight changes. OHS nurse Ms. Anna Durst said, "The most recent change to our protocol is the option for a shortened quarantine if you meet certain criteria." Students have been doing well with following protocols, but the biggest issues continue to be mask wearing and students keeping the necessary distance. Sophomore David Smith said, "It's pretty difficult to handle something like this, but they [OHS] are doing pretty well." Students and staff need to continue following protocols in order to stay in the hybrid model.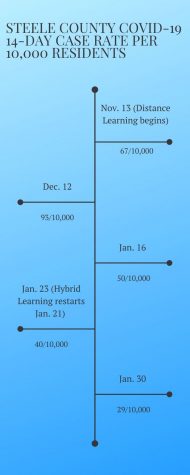 The issue of how much distance is needed in each unique situation has come up recently. OHS Principal Mr. Kory Kath said, "The CDC would say that in some circumstances, if you can do more, do more. In other words, it's more of a suggestion. So, the idea around it is that it isn't kind of that hard and steady six feet, but then they've also in some other areas…where you also have to loosen restrictions." COVID-19 is a relatively new virus, so protocols and guidelines are constantly changing.
The biggest developments in regard to COVID-19 are the new staff testing and staff getting the vaccine. Optional staff testing is offered every other Wednesday via saliva test. OHS nurse Ms. Annette Hanson said, "The tests will hopefully identify asymptomatic carriers to limit the spread of the virus." The vaccine rollout is underway in Minnesota and teachers are towards the top of the priority list. Ms. Durst said, "School staff are on the first phase of vaccinations, but in different tiers of that phase. Several factors such as job description, age, and health issues, etc. determine placement on the tier."
Along with a return to the hybrid model, sports were also able to start back up again. Most teams have been able to compete since the beginning of January, but gymnastics was only able to start their season on Feb. 2. Mr. Kath said, "We've had a few situations of quarantining, but not anything out of the ordinary. And what we've found is that it's more about our own students in their interactions and in practice or whatever it is that there's been that, not because they played another team that is infected."
"
I would definitely say that most students will see that as the year progresses that they will have more and more rigor and expectations in their classes."
— Principal Kath
With all that is going on it is important not to lose sight of the focus of school: learning. OHS has been in a hybrid or distance model for almost a full year now, and that means that many classes have had to lower the amount of material taught. That may start to change as teachers become more and more familiar with the technology. Mr. Kath said, "I would definitely say that most students will see that as the year progresses that they will have more and more rigor and expectations in their classes because teachers are getting used to using the tools and the resources to engage students." What's most important, however, is how students are doing. Sophomore Liam Melgaard said, "Although the hybrid format is somewhat harder to manage, I think it is needed to maintain the health of students." Students find that certain classes are harder than others, and that while some distance days are sometimes short it is still hard to manage all their classes on. their own.
OHS and the Owatonna community have handled COVID-19 fairly well so far. If the current pace can be kept up and the vaccine continues to go out as planned, school could be, fully, back in session in the fall.