Celebrating Black History Month 2021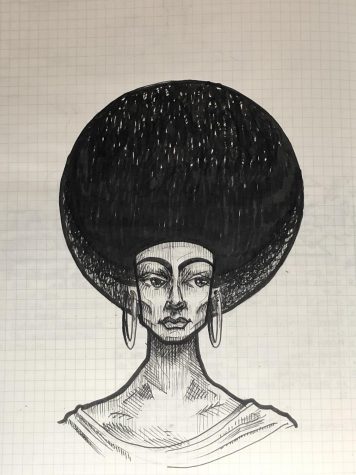 Black History Month is an annual commemoration of African American accomplishments that has affected American history. This stems from Carter G. Woodson's original idea of only having it be a week-long celebration during the second week of February for Abraham Lincoln and Fedrick Douglas's birthday, who both had an impact on the black community during that time. Black History Month was proposed in 1969 when students from Kent State University thought it should be longer than a week long. It was first celebrated from Jan. 2 – Feb. 28, 1970. Since then, it has been recognized in many places like America, Canada and more recently Ireland and the United Kingdom. 
In the last couple years, 2020 especially, there were many issues that were brought to light. The media of 2020 has put the black community on display. Whether it was police violence, adults and students were suspended for using racial slurs, protests and more behind the scenes. These instances may make this year's Black History Month look a little different. In years before, it was a topic here and there but now, it may have more of a meaning. When asked how talked about is Black History Month, Taylor Hall said, "The topic of Black History Month has been very common because of everything going on." With all of the events that have happened, it has all been a televised topic that people cannot avoid or ignore like in past years. Since the murder of George Floyd on May 25, 2020, it seems as though there has been more attention to the topic of race and racial based issues. After Floyd's death, there were more black deaths and more intense emotion that ranged from anger to grief. The past year has had a heavy influence on the black community. 
The COVID-19 pandemic will also make this year's celebration look different. In previous years, people could celebrate with gatherings or events like barbeques. Unfortunately, that can not happen this year due to health regulations. There are still many other ways to celebrate. One of these ways is to do virtual tours and field trips. The National Museum of African American History and Culture is holding many virtual events throughout the month of March for free as long as people who are interested register. Google Art and Culture is also allowing virtual field trips of many African American museums. Another way to uplift the black community is to support black owned businesses. Whether it is a small business or one with many customers, it is beneficial. A study at Yale University  concludes that black own businesses are more likely to hire fewer workers, get less profit and a higher chance of closing. When supporting these businesses, people can uplift and make black businesses have a bigger impact in everyday life. Another way is to be more educated in these topics. No matter their age, where they live, there is always more to learn. With how the internet is now and the many books that can be read, the resources are unlimited. This is also a time where people are able to have conversations about race and what it means, especially during Black History month.
During this month, there are many ways to celebrate. More people are open to learning about black figures, achievements, moments in history, issues and more. Whether they do this learning through school or on their own, there is no way someone could say they have never heard about Black History Month. Schools do bring up Black History Month but do they need to do more or is it the students own personal issue to educate themselves on the topic? Hall said, "I think the school does the bare minimum and could do more."  Some things schools could do more of is shining light on achievements of the past and why it was harder to get here as a black figure because of issues of the past.  Schools usually teach basic things like historical black figures like Harriet Tubman and Martin Luther King Jr. Junior Tyrel Creger said,"If schools are not doing enough, then students have many resources to learn on their own.
"
Black History Month means a lot to me because I feel like black people don't get enough credit and recognition."
— Tyrel Creger
" With social media, there are many educational posts all over and even more recently, black issues are a heavy and accessible topic. Many instagram black influencers may share information. There are also many books like The Hate U Give by Angie Thomas and movies like 13th and Love and Basketball.
Black History Month is an important time and gives new opportunities for many people. Creger said, "Black History Month means a lot to me because I feel like black people don't get enough credit and recognition." This month amplifies the black experience in America. It is a heavily talked about topic during the month of February, but the topic needs to keep going. Hall said, "Most people only care during the month. I think it's a good celebration of black history. Black people deserve the month but if people thought about it all year round, we wouldn't need it." Black History Month has many aspects to it and brings people together for an overall celebration. OHS is celebrating Black History Month by distributing surveys to see what topics groups could talk about related to Black History Month. These discussions range from environmental racism to Historically Black College or Universities. Students can find these in their school emails.