To All The Boys: Always and Forever ending to the series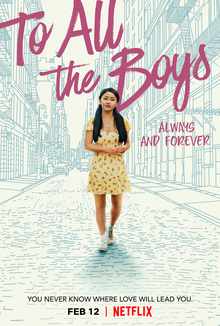 The "To All the Boys" series started back in 2018 with the first movie "To All the Boys I've Loved Before", then the second movie, "To All the Boys: P.S. I Still Love You" came out in 2020. The series is about a girl, Lara Jean, who has a letter written for all her past crushes that dates all the way back to her first crush at a summer camp. No one else has ever read these letters beside her until her little sister Kitty decides to snoop and finds them all, then delivers them to each one of the boys. But after one of the boys, Peter Kavinsky, receives his letter he did not really seem to enjoy it at first. Then he seems to turn those feelings around. They come up with this plan to make others around them jealous and to confuse everyone.
In the second movie everything is going well in her life, but then one of the letters is returned to her. Then that boy, John Ambrose, suddenly appears back in her life and she has no idea what to do. She has many decisions to make. They volunteer at the same nursing home and start to get to know each other again. At the end of the movie she winds up choosing to stay with Peter.
On Feb. 12, the third and final movie came out called "To All The Boys: Always and Forever". The movie starts off with the Covey family in South Korea on spring break visiting where her mom is from. Lara Jean is now a senior and has all the responsibilities of one, looking for a college and finishing her high school years strong. Lara Jean has a plan to go to Stanford University to forever be with her boyfriend Peter. After waiting many weeks for her acceptance she finds out she was denied at Stanford. For their senior year trip everyone gets to travel to New York City. While touring on their day out Lara Jean and her friend Christine accidentally run into New York University. Lara Jean instantly falls in love with the campus, but this turns into a big problem between her and Peter. They are not sure whether or not they will be able to stay together through this. 
So many people have been waiting for this new movie to come out since it was announced in July of 2020. Senior Sammie Spears said, "I did not really enjoy this one as much as I enjoyed the other two, I feel like it was dragged out in order to get a third movie. The plot of it did not have enough drama to fit in with the other two." Many were disappointed with the movie but many also loved it and are hoping for another. Freshman Violet Thompson said, "The third movie was not the best, but overall I really enjoyed the series. I think they all mashed pretty good in the end with the overall storyline." Each movie of the series all had different major plots that did not interfere with each other, but they all tried to relate to teens in many different ways.