Rock the rink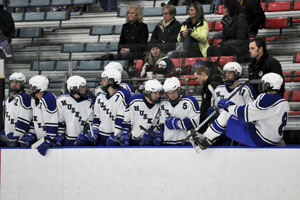 It has been said that a team wins together and a team loses together, and then sometimes they tie together. The Owatonna boys hockey team ended their season, capping a positive win to loss ratio at 15-10-2. Senior Aaron Kirsch said, "We accomplished a lot together and the guys are great. And I think we were all pretty happy about how the season turned out." The team had their ups and downs, with a few losses in between, but a mid-season five game winning-streak and a late season four game win streak kept the team's morale high. Head Coach Josh Storm, on what he thought the best game the team played, said, "The Rochester Mayo section quarterfinal game stood out to me. We played a very strong game, showed a lot of character in coming back from two goal down to win in overtime. The guys really played well." Mayo was one of many wins this season for the team, and it being the seniors' final season was not a bad note to end on. With nine seniors leaving, Coach Storm said, "I am excited to see the off-season growth in the returning guys. I am also looking forward to seeing a new group of leaders step up in the hockey program." No matter who suits up, OHS boys will always rock the rink.
About the Contributor
Kody Stenzel, Writer
I live and breathe The Magnet.

I socialize on the media.

I read books.