OHS snow week funtivities
Snow week came around in full swing, loaded with fun activities put on by the OHS student council from March 1-13. It may have looked a little different this year due to COVID-19 regulations, nonetheless, the OHS students had a blast.
Snow week started with the medallion hunt, which was divided up into three different groups: group one, group two and distance learning students. The group one and two medallions were hidden in separate places around the school, while the distance learner's medallion was hidden somewhere in downtown Owatonna. The student who finds the medallion gets awarded a TV, which quickly resulted in being the most enthralling series of events to happen so far this year.
The search for the Group One medallion started on Monday, March 1 and ended on Monday, March 8. Seniors Gavin Rein and Alex Stenzel found the medallion in the school library, hidden in The Fault in Our Stars. Rein said, "I opened the book and it was just sitting inside page 33." The two plan on selling the TV and then splitting the money. 
The Group Two medallion search started on Thursday, March 4 and ended on Friday, March 5. Seniors Emmi Edel and Faith Hanson found it in the OHS Museum underneath a picture frame. Edel said, "We tried looking in the green hallway and didn't find anything so we started looking in the museum and somehow saw a little part of the medallion sticking out underneath the frame." Both girls plan on either playing rock paper scissors for the TV or are going to sell it and split the money.
The distance learning medallion was found by sophomore Lydia Mensing in the Hat Chic clothing store. The search started on Tuesday, March 2 and ended on Monday, March 8. Mensing said, "The third clue was the best for me because Hat Chic had all sizes for people. When I got there, I started looking inside all the lockers and finally found it in the last one I checked." Mensing plans to decide what she's going to do with the TV when she gets it. 
This year's basketball extravaganza was held on Tuesday, March 9 at Washington Elementary. The winning basketball team, 'Pilchie's Babies', were coached by seniors Sarah Kingland, Lane Versteeg and Nick Pilcher. Teammates consisted of seniors Mason Saufferer, Emma Dahnert, Ashton Jenson, Cade Woltman, Jacob Meiners, Wendell Relacion, Zach Stransky, Jonny Wall and junior Eli Knutson.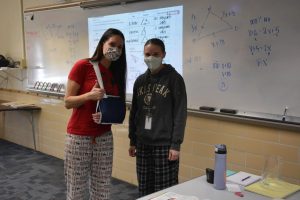 The basketball champions went undefeated and played well throughout the competition. Woltman said, "My team did amazing, we had great teamwork and swept the competition." Even though COVID-19 restrictions were still implemented, such as wearing masks and staying a bit distanced when not playing, the players were still able to enjoy themselves. Coach Sarah Kingland said, "My favorite part of the night was each game our team played because it was fun to watch everyone." This event also gave the players an opportunity to see students from different learning groups that they haven't seen in a while due to the hybrid learning model. 
Sledding and Elementary Game night was canceled and the week ended with the NHS Talent Show on Friday, March 12. Snow week dress up days were split into two weeks this year. Week one, March 1-5, Monday was PJ day on Monday, Tuesday was jersey day, Wednesday was groutfit day, Thursday was PJ day, and Friday was jersey day. Week two, March 8-12, consisted of crazy sock day on Monday, Tuesday was flannel day, Wednesday was Husky day, Thursday was crazy sock day, and Friday was flannel day. The money raised from snow week was donated to Rachel's Light.