Let's Play Ball!
After COVID-19 took away last year's season, the OHS softball team is eager to play this year. The season will fly by with it starting about two weeks later than usual and will go into June. The team started off the season on Thursday, April 8 with a challenge away against Northfield. The varsity squad has a variety of levels of experience with only three returners from the last season (in 2019). It includes three seniors, four juniors, two sophomores and four freshman. These younger girls will be a huge contribution to the team as well as for the years to come. 
Returning players and captains are  providing experience and leadership for the younger players. Ana Laduke said, "I'm really looking forward to my last year of softball. We have a lot of new girls on the team with a huge amount of talent, and I'm excited to see what this season will bring!" Senior manager, Hailee Olson, is also excited to manage her last year. She has been committed to the OHS softball team for five years. Her efforts help out the coaches at practice with setting up nets, shagging balls and running the machines; additionally, at games, she keeps all of the statistics. Olson said, "I like being around the girls and feeling as a part of the team as the players."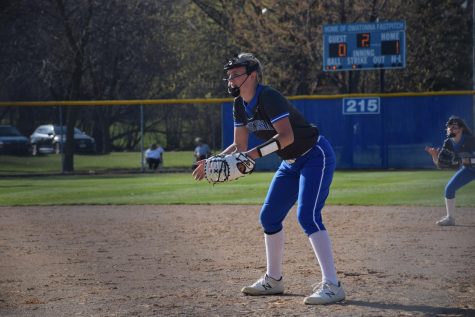 Unlike other OHS sports, the games will not have limited fans, so all can come to support at Morehouse Park this season. The team is excited to be back on the field and the seniors are thankful that they get closure to their softball careers. The coaching staff has had time away from the field to find new techniques and further prepare for this upcoming season. Head coach, Jeremy Moran said, "Like all other spring teams that missed out on their season last year, this team is excited to get back to competing again. They have been bringing great energy to practices and we are very excited to see how this team performs out on the field this year. With it being almost two years since we last played, it will be a season like none other before, but I think I'm speaking for everyone that we are so thankful to have the opportunity to play again."
The OHS softball team expects great things out of their season. The Huskies are currently 4-2 with victories against Austin, Red Wing, Century, and John Marshall. They fell short to Northfield and Farmington with an upcoming game against Northfield on Tuesday April, 27 at Morehouse Park.