100 years of Magnet
The student-run newspaper of Owatonna High School has officially been reporting for over 100 years. Established in 1920, OHS Magnet is taking a look back over the decades and reminiscing on some of Owatonna's biggest moments and greatest challenges. Despite the multigenerational gap that covers Magnet's 100 year history, prominent stories, notable figures and big events are still very much on the minds of OHS alumni. Documenting the rich history OHS has to offer is definitely worthwhile.
Gaining influence throughout the 1920s, OHS Magnet was able to capitalize on a brand new high school. An issue of the Magnet from January 29, 1923 sported headlines such as, "School records show larger attendance", citing OHS attendance improvements during the third quarter that particular year, or "Ladies flirt frost king", reporting on the female teachers celebratory sleighride party and "Athletics vs. Disease", shedding light on ancient theories regarding the evolution of man and the relationship civilizations have had with sickness over the centuries.
Throughout much of the early years, humor was a consistent theme among the Magnet prints. One article printed on April 15, 1931 was headlined "Magnet office scene of terrific struggle– 'Gordy' versus mouse." The story describes a young lady's interaction with a small mouse that had snuck into the school. Mabel Gordon, that very girl, said this, " 'I just picked up a paper on the desk in here and horrors! A mouse ran from under it.; " A fellow classmate, Fred Hager, just happened to be walking down the hall during this occurrence. He said, 'I saw the door of the Magnet office swing open and Mabel rushed down the hall. I thought something terrible must have happened, so, like a gallant hero, I ran to her assistance. ' "
As the decades have moved on, Magnet has been witness to much change. However, being in the midst of a current pandemic, it seems fitting to reflect back on the rollout of the polio vaccine. A Magnet issue from November 29, 1956, was headlined, "Prevent Polio with Vaccine." The article highlighted common student references such as, "Does it hurt", and "There's nothing to it." In concurrence with today's topic of discussion, students in 1956 were asked why they haven't received the vaccine yet. The article says, "When asked why they have not had the polio shot yet, most OHS teenagers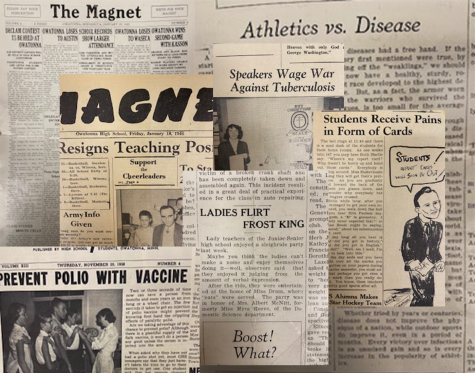 say that they just haven't taken the time to go to their doctors office and get one."
Aside from important stories, it is exciting to reflect back on life in Magnet before the technological revolution. The 1960s was a time of great angst and wonder, not only here in the United States, but elsewhere in the world. With this being said, Magnet was still going about its business and creating content amidst the looming threat of young men being drafted and shipped off to war. A woman on Magnet staff during the 64'-65' academic school year, Ms. Marcia Wegner, shares her experience in the newsroom. She said, "It was a fun office environment after school hours. I would arrive at the Magnet office and the adviser would provide me with a list of businesses downtown that had purchased ads that particular week. It was then my job to orchestrate the photos and find people to model in them." Before the digital platform would lend itself to nearly cost free publishing, the Magnet was required to run ads in order to pay for the costs of publication. Wegner was one of only a few students that was in charge of the advertisements, saying, "I don't remember being in the office with the writers or editors, it seems that the different departments were to meet at different times."
From 1969-2012, OHS Magnet was headed by Mr. Ronald Marschel, a whopping 43 years at the helm of the school's newspaper and publications. As the decades have progressed, the atmosphere of the Magnet newsroom has transitioned from that of minimal student participants and physical newspaper prints to a larger group than ever in 2021 that is solely dedicated to posting stories onto an online platform due to the effects of COVID-19.
Throughout his tenure as Magnet adviser, Marschel covered various important stories including the Mille Lacs Reservation to talk with the head of the reservation business council during the planning of their casino, the introduction of arts into Owatonna High School, many school board and faculty decisions like add-ons to the building or changes in school rules, the filming of the movie Angus at Owatonna High School and much more.
"
There was no distinction between kid and adult when it came to first amendment law. A student writing in the printed Magnet was liable, along with the school district, for what he/she said, just as someone writing in the Minneapolis Tribune.
— Ronald Marschel
Along with those was one of the most important stories that played into the building blocks of modern student journalism, the Hazelwood vs. Kuhlmeier decision in 1988. Marschel said, "There was no distinction between kid and adult when it came to first amendment law. A student writing in the printed Magnet was liable, along with the school district, for what he/she said, just as someone writing in the Minneapolis Tribune." This ruling gave a decision where kids in a school setting are not as liable for what they say in a print and do not have to follow as strict of guidelines as a professional writer or journalist would follow. Marschel said, "This decision lifted a burden off of the shoulders of the school district and my own as the adviser." According to Marschel, that was one of the most important stories covered in his tenure as it has stuck through since then and has given students the freedom to express themselves more in an organized setting. Now 33 years later, there are still arguments over the free speech rights of high school students. Highlighted by a recent supreme court case involving student Brandi Levy, who posted a profane post on snapchat about being denied a spot on the varsity cheerleading squad. This particular case is framed as a test of the power school administrators have over student speech on the web.
Magnet has not always been an elective as it is now during the school day. Marschel pushed for many improvements to Magnet over his 43 years, but the push to have it migrated into the daily school schedule as an elective made it even more popular. Marschel said, "The biggest thing I argued for was that Magnet should be during the school day." Many students chose not to participate in Magnet as it was an extracurricular activity that was done after school just as any sport is now. Many people missed out on the opportunity to be a part of Magnet because of sports, so finally having it migrate into the normal school schedule was a much needed improvement. Currently the Magnet operates during the fourth block, with over 50 students on staff.
Along with that significant difference is that Magnet used to run advertisements in their prints to receive their revenue that they needed to continue to run prints in the future. According to Marschel, they made around $250 per issue to withstand their financial needs as a group. The transition to an online platform, combined with school funding, has eliminated the need for those advertisements.
In 2013 the OHS Magnet was placed under the care of a new adviser, Ms. Jessica Wagner. Since that time, Magnet has grown exponentially in size and adapted to a modern publication scheme. Madeleine Haberman, Class of 2015, spoke on new age technology and the environment of a modern newsroom. She said, "I was interested in how we could move some of our newspaper stories from written format to something more interactive, and I was able to start creating video interviews and stories."
"
I was interested in how we could move some of our newspaper stories from written format to something more interactive, and I was able to start creating video interviews and stories.
— Madeleine Haberman
Being a student journalist comes with its own set of privileges and opportunities, something that is uniquely a part of Owatonna's culture and has been for 100 years. Haberman said, "Magnet and Mrs. Wagner has created a space for students to grow and work independently. You can really choose what you are interested in and dive deeper into that topic." The creativity and freedom given to students in the newsroom is what has allowed the Magnet to thrive for so many years.
The multigenerational tradition of student journalism in Owatonna has played a vital role in the community. From the new high school built in 1921 through the major additions to the building during the 1990's, OHS Magnet has held strong. The past decades have been filled with entertaining prints, news coverage, notable figures and spontaneous stories. The people of Steele County have been held together for a century by OHS Magnet, not one point in history more important than another. This year, May 6, 2021, Owatonna Public Schools will break ground on a brand new high school, just over 100 years after the original was built. Magnet will find a new home there, continuing the tradition of excellence and carrying on the legacy of student journalism.