OHS Girls Track racing toward the end
Owatonna Girls Track started the season strongly and has only been improving. Their first meet was April 15 in Faribault where the Huskies won overall with a total score of 153 points. From there on, the individuals have averaged 35 personal bests per week. Not having a season last year has made the girls and coaches work even harder to succeed.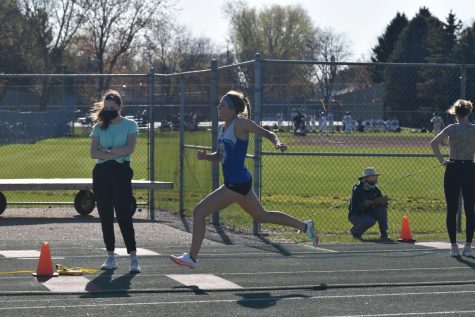 The team includes 11 seniors, 14 juniors, 15 sophomores and 24 freshmen. With many younger girls, there is plenty of room for leadership from the more experienced teammates. The Huskies are led by senior captains: Lindsay Bangs, Emma Dahnert, Sarah Kingland and Maggie Newhouse. Captains for the team guide in many ways; making team decisions, leading warm ups, encouraging teammates and designing clothing are just a few of the things that these girls do for the team. Newhouse said, "It's important as a captain to be encouraging everyone and holding the girls accountable for doing their best." Being a part of track means meeting new people each year and having a variety of different events to explore specific talents and interests. Bangs added, "I like being part of the team and meeting new girls every year."
Girls Track has been competing very well with strong individuals in each event. Although COVID-19 put a stop to girls' track last year, it's hardly taking away from them this year. There have been some positive cases, along with exposures, which have caused girls to miss practices and meets. COVID-19 has caused the team to adjust the lineup and cost the Huskies points in a meet for absence of girls. With COVID-19, the girls are able to watch their teammates in the other events, rather than setting up a camp to sit together and wait for their next event.
The track team is hoping to continue their recent successes into the final push of the season. Head coach, Ann Christensen, has been continually proud of the team and their performances. Christensen said, "It's really nice to get to know the girls in a different way than just the classroom. It's also fun to see the successes, the friendships that develop and the support that they give each other."
Owatonna Girls Track will have their next meet on Wednesday, May 19 in Albert Lea at 4:30pm. From there, they will head into sections.