Survive the mental giant
Mental Health Awareness month is a reminder that mental health is essential to everyday life and those who struggle with mental health issues are deserving of opportunities to heal, recover, hope and the fulfillment of a beautiful life. Also mental illnesses affect 19% of the adult population, 46% of teenagers and also 13% of children each year according to Pine Rest Christian Mental Health Services. A mental illness is a physical illness in the brain that tends to cause many disturbances in the brain including energy, motion and ability to think, which makes it extremely difficult to cope with the demands of everyday life.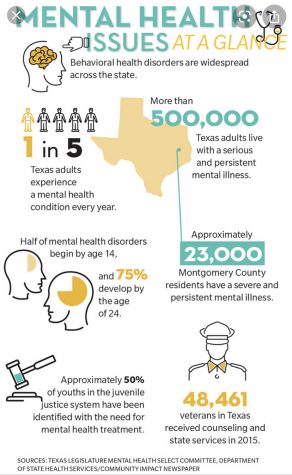 Research has dug beneath the surface and has uncovered many of the complicated causes of this disease such as brain chemistry, genetics, trauma, heart disease and brain structure. 
This month is filled with media, local events and film screenings. This year they will continue their theme of Tools Two Thrive which is providing practical tools, which everyone can use to improve their mental health state and increase their resiliency to keep going in their life. Sophomore Kalina Boubin says, "Mental health is important because for teenagers it is the number one thing we struggle with and we need to encourage everyone who has mental health issues to get help." Although the general perception of mental illness has been improved through the years, studies have shown that stigma is so powerful when relating to mental illnesses, which is greatly due to social media stereotypes. Many people tend to attach negative stigmas to many mental health conditions way more than they would to many other diseases and disabilities such as heart disease, diabetes and cancer.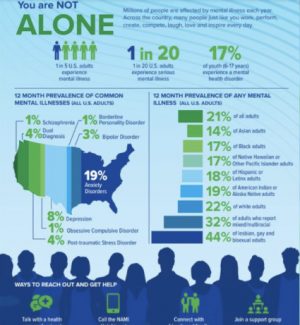 Stigma has affected not only the number of people seeking treatment, but also on the number of resources that are available for proper treatment and diagnosis. Stigma and the lack of proper knowledge and education relating to mental illness can oftentimes make it feel like an overwhelming obstacle for someone who has been struggling with one of the many mental illnesses. Sophomore Reegan Lindholm said, "Mental health month is supposed to be a reminder to take care of yourself not just physically but mentally, too. It helps break down the stigma around having depression and anxiety and allow others to maybe see their symptoms and find the help they need. Mental health month is especially important right now with all of the restrictions and with the school year coming to a close. We need a month to focus on bettering ourselves and keeping ourselves healthy so we are able to have better tomorrows."
May is mental health awareness month and counselor Amy Lageson said, "I think Mental Health Awareness Month is really important because mental health is just as important as physical health. It is easy to get wrapped up in our daily stressors and not take the time to take care of ourselves. Everyone can benefit from the reminder!" 
Mental Health is a giant towering over teens minds every single day but there are some powerful ways to defeat this giant. Just by showing respect and acceptance to people can remove a significant barrier which can help them cope with their illness. Being seen as a person and not a disease can truly make one of the biggest differences. By learning more about mental health it will allow many to provide much needed support to those affected by mental health issues.