Christensen retires from teaching after 36 years at OHS
Ms. Ann Christensen, health teacher and head girls track and field coach, is bidding teaching at OHS farewell after 36 years. The entirety of her teaching career, which began in 1984, has been spent at OHS. Christensen received her education from University of Minnesota, Mankato. She is originally from Winona and was led to Owatonna after her husband got a job here.
At OHS, Christensen teaches health and women's health issues. When asked about what made her want to teach health, she said, "I felt it was a very important area for people to know– taking care of ourselves is so critical to everything we do." She says that she was inspired to start teaching by her high school math teacher. When asked what the biggest thing she's learned from teaching is, she said, "Youth are just exciting people and fun to be around and being able to work with youth is a great opportunity." Christensen's favorite part of teaching is seeing students actively engage and show interest in what they are learning.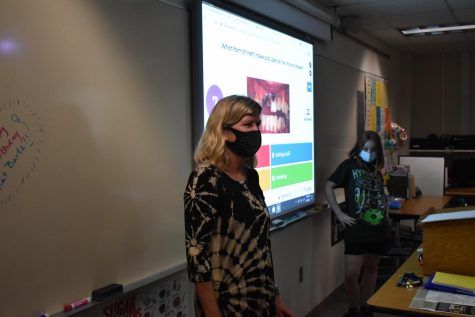 As of right now, Christensen does not plan to retire from coaching girls track and field. Girls track and field captain senior Emma Dahnert said, "Ms. Christensen has taught me a lot over the years and she's been a great mentor, and I'm really going to miss her next year."
Currently, Christensen does not have any definitive plans for her retirement, but she hopes to do some traveling and also has a new grandchild. She said, "I hope to stay connected to the school with different things."