Bringing fans back to the stands with a new ticketing system
Owatonna fall sports have officially kicked off with hopes of a successful and normal year for all teams. Fans are back in the stands this year with a bigger bang than ever. After a year full of restrictions and limited fans, ticketing is now back open to all Owatonna sports fans. The OHS activities office has introduced a brand new way for fans to purchase tickets and activity passes, so they can watch all their favorite student athletes compete. 
The new ticketing system is called Hometown Ticketing. Hometown Ticketing allows fans to purchase tickets and activity passes electronically. This new form of ticketing has many advantages to it. One advantage is being able to have your ticket on your phone. All you have to do is download the "HomeTown Fan" app, search "Owatonna Senior High" then there will be a list of the upcoming sports events that tickets can be purchased for. Fans are also able to purchase their activity pass here, which gets you into any home sports event for the 2021-22 school year. 
When fans get to the event with their online ticket, there will be a QR code on their phone that will need to be scanned so they can enter. This method will be more convenient and allows fans to skip the line at games. Activities Secretary Ms. Nancy Benson said, "It will save people time from standing in lines, especially when they are going to games. They will already have their ticket, get it scanned – it will be super quick." For people who maybe are not as technologically savvy or do not have a phone, there will still be tickets available in person to be bought with cash or check. Physical activity passes are also available to be purchased at the activities office, located by the wrestling room.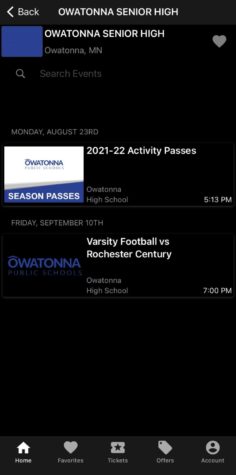 Hometown Ticketing is available to purchase tickets for events at almost every Big Nine location, excluding Red Wing, Austin and Winona. Many fans used Hometown Ticketing to get into the first OHS football game of the year at Rochester Mayo. Senior Connor Ginskey bought his ticket to the game using Hometown Ticketing, Ginskey said, "I was able to have my ticket ready when I got to the game. It was super convenient." Another helpful feature on the app is the option to share your tickets. You can email or text your ticket to someone and they will receive it as a PDF then be able to use it. Once you share that ticket with someone, it will disappear on your app and you will no longer be able to use that ticket. 
Hometown Ticketing is the direction that most Minnesota High Schools are heading for the purchasing of tickets. Most metro schools have already been using this system and now most Big Nine schools are using it too. Hometown Ticketing allows you to purchase your ticket prior to the event and makes getting into the event quick and easy. Download the "HomeTown Fan" app on your phone or visit https://www.owatonnaactivities.com/ticketing to purchase tickets or an activity pass for future OHS events.